London used to be miles behind it's continental neighbours when it came to wine bars offering something more than the typical two reds and a white. Luckily the city has drastically improved, from the likes of Sager & Wilde to the expanding empire of 28-50. Thanks to the team at London Wine Week who helped us with the list
East
This wine bar, which opened in the summer of 2013, serves great wine in a stylish, urban but unpretentious setting. It's our absolute favourite spot to enjoy interesting varieties by the glass and their food offering is delicious.
193 Hackney Road, E2 8JL
The little sister of 10 Greek Street, situated above Happiness Forgets, has a great list of wines, small plates and low mark-ups.
8-9 Hoxton Square, N1 6NU
This restaurant and bar lying just south of Dalston Junction has some big names behind it, including chef Stevie Parle, wine expert Ruth Spivey and Milk & Honey's Jonathan Downey. The extensive wine menu is half-Italian based and thoroughly enjoyable.
434 Kingsland Rd, E8 4AA
With a wine list that heros producers from South-West France, aswell as highlights varities from other French regions such as Loire Valley, Burgundy and Alsace, Cellar Gascon is the perfect venue for any parched francophiles.
59 West Smithfield, EC1A 9DS
Situation on the corner of Columbia road, this is the east sibling of Soif and Terroirs. The majority of the list comprises of wines sourced from small growers who work sustainably, organically or bio-dynamically in the vineyard and with minimal interventions in the winery.
Columbia Road, Bethnal Green, London, E2 7RG
As a place to eat, drink and socialise since 1869, the Quality Chop House venue, in one form or another, has been serving Farringdon for nearly 150 years.The drinks focus is on wine - a comprehensive (though not voluminous) international range with plenty of unusual styles is available by the glass, half-bottle, bottle and magnums in some cases.
92-94 Farringdon Road, EC1R 3EA
West
The 10 Cases is a little Bistrot with wine as its main focus. They only ever buy 10 cases of the wines that you will find on the list in order to constantly try new things. The bar lists 10 reds and 10 whites on its menu with everything available by the glass and carafe.
16 Endell Street, WC2H 9BD
London's oldest wine bar was established by Arthur Gordon in 1890, but the Gordon family who have owned the bar for generations are not actually related - the name mealy a happy coincidence. Little has changed here in over a century. There's no music, beer or spirits - just good wine (27 by the glass), sherry, port and atmosphere.
47 Villiers Street, WC2N 6NE
The Remedy
Renowned for their innovative and exciting wine list, The Remedy purposely ignore big name brands and regions, instead opting to showcase some rarer and often slightly strange bottelings. If the usual Pinot Noir and Chardonnay is becoming monotonous this is the place to head.
124 Cleveland St, W1T 6PG
Fulham Wine Rooms / Kensington Wine Rooms
These two sites in west London well deserve their reputation among London's best wine bars. Both serve an incredible about of wines, between 150 to 200 different bins, sourced to give a snapshot of what the team likes from around the world. At any one time you can sample 48 of those by the glass, armed with a pre-paid wine card.
871-873 Fulham Road, SW6 5HP; 127-129 Kensington Church Street, W8 7LP
This quaint restaurant and bar specialises in food and wine from around the longest wild river in France; stretching from the Ardeche to the Coast at Saint Nazaire. The wine list celebrates a great number of diverse growers, both young and old from along The Loire.
54 St Martin's Lane, WC2N 4EA
28°-50° Wine Workshop & Kitchen
With three sites throughout west London we're very impressed with this new collaboration between sommelier Xavier Rousset and executive chef Agnar Sverrisson. They offer an impressive amount of wine by the glass in many different sizes, meaning you can sample a few or stick with a favourite.
140 Fetter Lane, EC4A 1BT; 17-19 Maddox Street, W1S 2QH; 15-17 Marylebone Lane, W1U 2NE
Passionate about the notion of terroir (clue's in the name here) this wine bar, situated over two floors, operates with the objective to present wines that most sympathetically reflect the place from which they originate, the nature of the vintage itself and the personality of the grower. They also have a great selection of charcuterie and cheeses.
5 William IV Street, WC2N 4DW
Compagnie des Vins Surnaturels
This elegant yet homely wine bar comes to London from the same team behind the hugely-successful Compagnie Des Vins Surnaturels in Paris. The team here bring around a wine menu, which is extensive, plus their food offering and after an informal chat with the sommelier you'll be lined up for whatever wine best suits your palate and occasion. No snobbery here, just a recommendation on flavour.
8-10 Neal's Yard, WC2H 9DP
With four venues (Soho, Farringdon, Marylebone and Chiswick) the success of this chain of small wine bar and shops is evident. They hero the small producers and interesting varieties and all their wines are available to drink in, take away or order online.
55 Beak Street, W1F 9SH; 7 St John Street, EC1M 4AA; 15 Seymour Place, W1H 5BD; 18 Devonshire Road, W4 2HD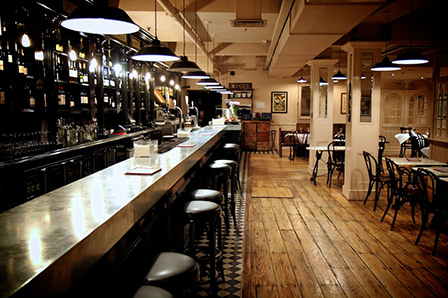 In what sounds like an Enid Blyton story, five friends from the drinks industry took over what was a down-at-heel, rather grim, basement wine bar. One of the 'Boozy Five' was once an Oddbins buyer and his knowledge and contacts are evident in the phenomenal wine list which includes an excellent house wine selection of 25 bins all available by the glass and listed as 'honest', 'decent', 'good' and 'staff picks'.
1A Bedford Street, WC2E 9HH
South
The curvaceous, white corrugated interior of this railway arch in the arse-end of Bermondsey doubles as a wine merchant's warehouse and a basic but brilliant wine bar and brasserie. Its USP - "wines produced by a handful of wine-makers who eschew the use of chemical fertilizers and pesticides in favour of letting the land and the grape speak" - has its advantage in that wines sold by the bottle and glass here are superb and well-priced. There's also a nice line in boutique eaux-de-vie.
40 Maltby Street, SE1 3PA
Toasted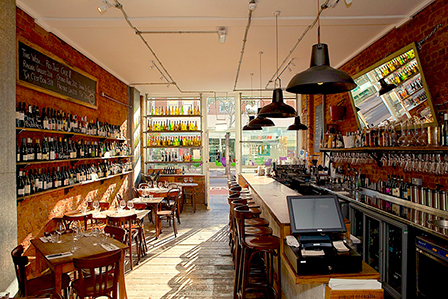 The wine list here can legitimately claim to cater for all tastes and budgets with a selection of 200 wines. There's four purpose-built tanks for the house wine all the way through to delicious and rarely-encountered wines from artisan producers and even a selection of vintage Chinon.
36-38 Lordship Lane, SE22 8HJ
Based in London Bridge and Farringdon this concept is based on a love of South Africa and the nation's wine certainly dominates the menus. There's still a great selection of other wines from around the world and both sites have their own walk-in wine cellars where guests can take the cellar tour and pick out a bottle that is not on the list.
4 Hays Lane, SE1 2HB; 47 Farringdon Street, EC4A 4LL
North
Bar Pepito is Andalusian bodega having a love affair with sherry and all things Jerez. The owners take a huge amount of pride in showcasing sherry's extraordinary flavours, from the driest wines in the world to the sweetest.
Varnishers Yard , N1 9FD
Watch this space
The Mission is a new opening from the team behind Sager & Wilde in Bethnal Green. It's in its soft opening at the moment but once the venue has had time to settle in we have no doubt it will be gracing this list alongside its sibling venue.