Six Fresh Watermelon Cocktails To Keep Summer Going
Six Fresh Watermelon Cocktails To Keep Summer Going
Watermelon cocktails shout summer. Here's six of the best drinks using a variety of fresh fruit, watermelon syrup and watermelon liqueur.
The time-saving hack to any watermelon cocktail, and a way to avoid flavourless, out-of-season fruit, is to enjoy the fresh and juicy flavour without all the trouble of cutting up a soccer ball-sized fruit. To do this, you can use MONIN watermelon syrup, which is loaded with those luscious flavours, packaged up in bottle-form.

PURPURINA COCKTAIL
With: Jalapeno-infused pisco, Monin watermelon syrup, lime juice and egg white.
We say: With a whole measure of watermelon syrup, you may expect this cocktail to be on the sweet side. Instead, it is beautifully balanced with delicate jalapeno heat.
WATERMELON MARGARITA
With: Fresh watermelon, tequila, Monin watermelon syrup, lime juice and salt.
We say: Just as it says on the tin – this is a very fruity Margarita.
WATERMELON MAN
With: Vodka, watermelon liqueur, lime juice, Monin watermelon syrup, lemon-lime soda.
We say: A fresh, long and summery drink that's on the sweeter side for those looking for a bright kick of confected watermelon flavour.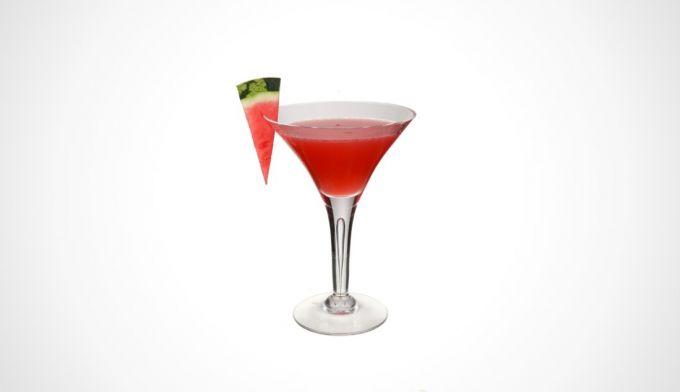 MIAMI MARTINI
With: Fresh watermelon, vodka, Campari, lemon juice, Monin pure cane sugar syrup and orange bitters.
We say: Light, refreshing and all too quaffable. Campari and orange bitters add depth of flavour and, with a full 20ml of sugar, surprisingly balanced.
WATERMELON & BASIL
With: Fresh watermelon, basil leaves, gin and Monin pure cane sugar syrup.
We say:Refreshing watermelon with interesting herbal hints from the basil and gin.
HWACHAE
With: Rum, maple syrup, fresh watermelon, fresh pineapple, lemon juice and pilsner lager.
We say: Who'd have thought watermelon, pineapple, beer, rum, maple syrup and lemon would work so well together? Unusual and refreshing.