Tour de France cocktails
Words by Jane Ryan
Photography by A.S.O.
For us spectators the Tour de France is a picturesque journey through the French countryside, interspersed with sunshine and rolling green hills. For the cyclists it's a gruelling 3,664 kilometres of up-hill struggles, mountain stages and altitude finishes. And all for a simple yellow jersey. But so much time relaxing in front of the television requires hydration.
The English start
From Saturday, July 5th, the tour kicks off in Leeds, with a 190km journey to Harrogate. The next two days take in the sights of York to Sheffield and Cambridge to the capital in London.
While this tour might be French we're starting with an English Martini, made with gin, elderflower and garnished with a rosemary sprig, perfect for viewing the glorious British countryside in sunny July. Well, we hope the sun at least graces us with a few rays to showcase the beautiful north.
Crossing the Channel
Hoping over La Manche to Le Touquet-Paris-Plage requires an aperitif that straddles both nations so we're recommending an aptly titled English Channel, made with Grand Marnier liqueur, Benedictine D.O.M liqueur and cold Earl Grey tea.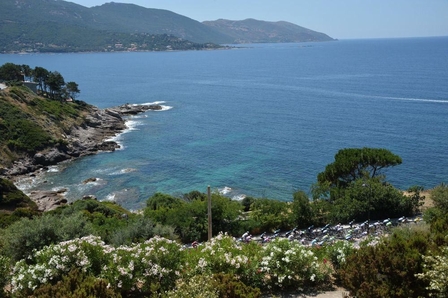 Northern France and Belgium
England isn't the only country to have suddenly found itself on the cycling tour of France, both Belgium and Spain will be putting in brief appearances. From July 8th till 14th the cyclists will cover 1,240 kilometres starting at the coastal town of Le Touquet to La Planche des Belles Filles by way of Ypres, Épernay, Gérardmer La Mauselaine and Mulhouse.
For this first leg of the French countryside we'll be having, what else, but La Bicyclette? Gin, sweet vermouth, peach bitters and elderflower, making for a light, sweet martini style cocktail invented by Jamie Boudreau.
Southern France
After a day of stretching our hamstrings, wolfing down protein bars and taking in the sights of Besançon we'll be ready to start watching again on July 16th where the cyclists will kick off the next gruelling stage, riding for 969.5 kilometres to Nîmes over five days. During that time the race will pass through Saint-Étienne, Chamrousse, Grenoble and Risoul.
The journey to Nîmes last year ended up as the most thrilling moment of the tour in the last decade after a wind came up and blew the race apart. May we suggest to avid viewers, still glued to their screens, a Country Breeze?
South West France and Spain
After another rest day on July 21st, the final six days will be starting to take shape. One of the longest days in the tour takes 237.5 kilometres of cycling between Carcassonne to Bagnères-de-Luchon but it's the next day, encompassing a much shorter distance, that starts to separate the pack and gives a good clue as to who will be standing on that podium. Hilly and ending on a summit finish with tight elimination times mean this is the divisive moment for winners and losers. Then an easier stretch from Maubourguet Pays du Val d'Adour to Bergerac on July 25th will give a last chance to any breakaway sprinters.
We'll be drinking a Yellow Belly Martini in anticipation of the final sprint.
The finish line
July 27th will see the culmination of nearly a month's hard cycling through terrain as beautiful as it will be difficult. As the riders race up the Champs-Élysées we'll be toasting their victory with a stunning Champs-Elysees Cocktail made with French cognac and chartreuse.
diffordsguide Tour de France cocktails
English Martini
English Channel
La Bicyclette
Country Breeze
Yellow Belly Martini
Champs-Elysees Cocktail