Australian Christmas Cocktails
Australian Christmas Cocktails
Eggnog and Snowballs, Mulled Wine and Christmas Velvet Alexanders... all very fitting for 25th December if you're wrapped up by the fire. Drinking creamy cocktails when its 30 degrees however, is far less appealing. Here's some drinks you'll actually crave for an Aussie Christmas.
Whether you're feasting on a roast ham with family, pouring berries on a pavlova or joining the expat crowds on Bondi, an Aussie Christmas has its own magic to it that doesn't quite fit the snowy, chilled stereotype.
Ditch the hot wine and mix the gang up one of these far more climate-appropriate drinks. If we can have our own version of Jingle Bells with a kelpie and a ute, we can certainly have a Beach Blonde and a Pavlova Shot.
Summer Sour
With: Vodka, watermelon liqueur, lemon juice, lime juice, sugar syrup and (optional) egg white.
We say: A lighter, brighter sour for summer that's vivid in colour and perfect for lazing in a hammock after a few too many helpings of Aunty Lynda's famous Caesar salad.
Cinnamon Martini
With: Vanilla vodka, passion fruit puree, cinnamon syrup and chocolate bitters.
We say: Essentially a festive Porn Star Martini, this fruity cocktail combines delicious passion fruit with Christmas spice. It's sweet, yes, but since when was overindulgence an issue on December 25th?
Beach Blonde
With: Advocaat, banana, rum and orange juice.
We say: In the UK they drink Snowballs at Christmas with creamy Advocaat as the base lending the liqueur a distinctly festive vibe to it. The Beach Blonde keeps that but adds in some more booze, fruit and a huge scoop of ice to blend with. It's like a Christmas Pina Colada and where else would you enjoy that but on an Aussie beach come Christmas Day.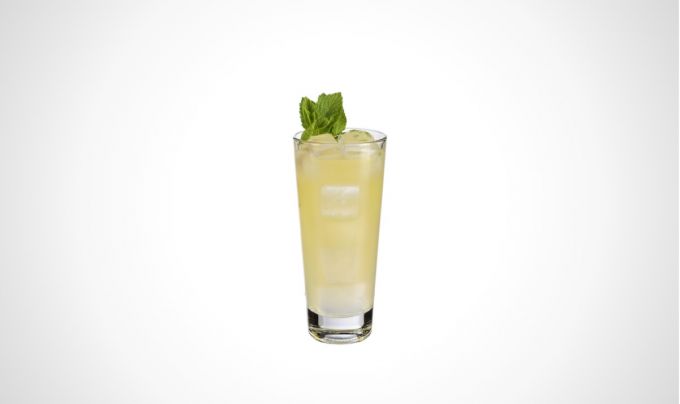 St Clemence
With: Gin, orange juice, lemon juice and tonic water.
We say: Keep it simple, stupid. Oranges are the ultimate Christmas fruit and many families still pop one into the heel of their childrens' stockings. But we're all over 18 here and Santa has well and truly stopped visiting, so treat yourself to an orange and squeeze it into your cocktail - much better than an oversized sock anyway.
Beach Iced Tea
With:Rum, gin, vodka, tequila, Cointreau, lemon juice and cranberry juice.
We say: Hold the Lipton's. This cranberry version of a Long Island Iced Tea is light, refreshing and best enjoyed on a hot summer day. It sounds intense, but remember it's just 15ml of each alcohol so when measured correctly it won't knock you for six.
Desert Cooler
With: Gin, cherry brandy liqueur, orange juice and ginger beer.
We say: Pass us a cold one. Keeping things festive with orange, cherry and ginger spice this long cooler is the ultimate 3pm pick-me-up, guaranteed food-coma-killer, on Christmas Day.
Summer Breeze
With: Vodka, elderflower, cranberry and apple juice.
We say: The ultimate crowd-pleaser, even your fussy Nan will love this refreshing and summery classic. It's fruity, from the 90s and pairs a treat with a slice of pavlova.
The Reindeer
With: Vodka, ginger, chilli syrup, lemon juice and champagne.
We say: A fizzy, gently pink cocktail to toast all those hard-working reindeers on Christmas Day. You can make your festive spice syrup as hot or mild as your family and friends can handle.
Pavlova Shot
With: Vodka and black raspberry liqueur.
We say: Down in one. Much easier than actually making a pavlova.