Location

Hacienda Patrón (NOM 1492)

Status:

Operational

Established:

2006

Visitor Policy:

Visitors by appointment only

Website: Hacienda Patrón (NOM 1492) Address:

Atotonilco El Alto, Jalisco, 47750
Hacienda Patrón
Many brands call their distillery a brand home, but Patrón's purpose-built distillery, Hacienda del Patrón is much more than that. The hacienda was built close to the small town of Atotonilco El Alto in the Highlands of Jalisco, Mexico due to the plentiful supply of quality agave from the surrounding farms and the abundance water from deep wells with the required acid mineral balance.
Production was almost doubled in 2018 with the completion of a mirror image of the already much extended original plant on land acquired behind the distillery. Hacienda del Patrón now incorporates multiple distilleries, each an exact replica of the first ones built here. As demand for the tequila has increased, so distilleries have been added – each crucially with the same small brick ovens, wooden fermenters and copper stills as the original.
Even before the completion of the plant behind the Hacienda, in 2007 Patrón housed 78 copper stills, 10 Tahona mills, 51 brick ovens and 169 wooden fermentation tanks all under the same roof (see below).
Additionally, the nearby old El Viejito distillery, now renamed Casa Patrón has been refitted by Patrón's engineers to mimic the roller-mill side of Patrón's production, again with the same size wooden fermenters and copper stills.
Aging warehouses have also been added to cope with demand and particularly the growing demand for añejo and extra añejo tequila.
From its inception, the hacienda incorporated two apartments at the front of the distillery, above production, so that the directors could maintain hands-on close contact with production. However, to accommodate bartenders and world-wide distributors of Patrón wanting to visit the distillery, those apartments have been converted into four bedrooms and a purpose-built 20-room guest house, La Casona ('the big house'), has been built opposite the distillery and plans are underway to extend this to 36 rooms.
La Casona has all the amenities and luxuries of a 5-star hotel with the extra attraction of free-flowing tequila. A stay here is a luxury experience that money can't buy – it's invite only. (Bartenders reading this should enter Patrón Perfectionist for their chance to visit.)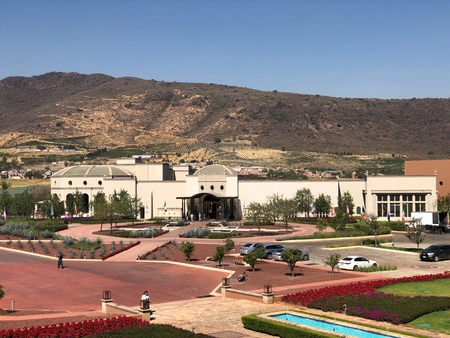 La Casona looking from the distillery
Hacienda Patrón (NOM 1492)
Status:
Operational
Established:
2006
Visitor Policy:
Visitors by appointment only
Website:
Hacienda Patrón (NOM 1492)
Address:
Atotonilco El Alto, Jalisco, 47750