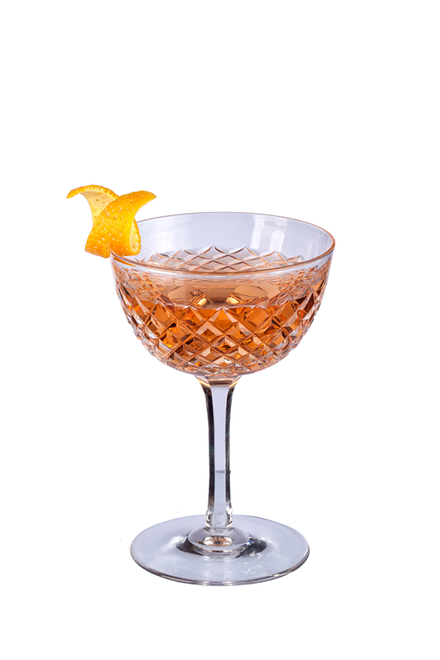 Garnish:
Orange zest twist
How to make:
STIR all ingredients with ice and strain into chilled glass.
2 fl oz
Old Tom gin
1⁄6 fl oz
Giffard Sugar Cane Syrup
3 dash
Orange bitters
1⁄2 fl oz
Tawny port (10 year old)
1⁄2 fl oz
Chilled water (omit if using wet ice)
Our Comment:
Kappeler's 1895 recipe calls for the old tom gin and orange bitters to be stirred with ice and strained into a glass, with tawny port poured down the side of the glass so it settles to form a red layer beneath the orange bitters tinted gin.

We've added a spoon (5ml) of sugar syrup to Kappeler's recipe to slightly sweeten the gin (omit if using a sweet old tom) and a splash of water to add some much needed dilution. We also prefer to abandon the original layering and stir all the ingredients together.
About:
The first known recipe for this cocktail was published in George J. Kappeler's 1895 Modern American Drinks where he calls for "A mixing-glass half-full fine ice, three dashes orange bitters, one and a half pony Tom gin. Mix, strain into cocktail-glass; add half a pony port wine carefully and let it settle in bottom of cocktail before serving."