Tiki & The essential elements that comprise a tiki bar
Tiki & The essential elements that comprise a tiki bar
Entering a really well done tiki bar is like entering an enchanted world - reminiscent of an upscale safari camp in a tropical paradise. An escapist place to forget worries, troubles and the government's recommended maximum units of alcohol per day.
To quote Martin Cate, "It had to be an American who first looked at an innocent puffer fish and thought, 'You know, if I gutted that, stuck an airhose up its behind and inflated it, covered it in lacquer and glued googly eyes on it, that might look rather swell. But if I stick a light bulb in it and call it a lamp, then I'll be really onto something'. Yes, at the end of the day, it's all a lot of nonsense. But what wonderful nonsense it is."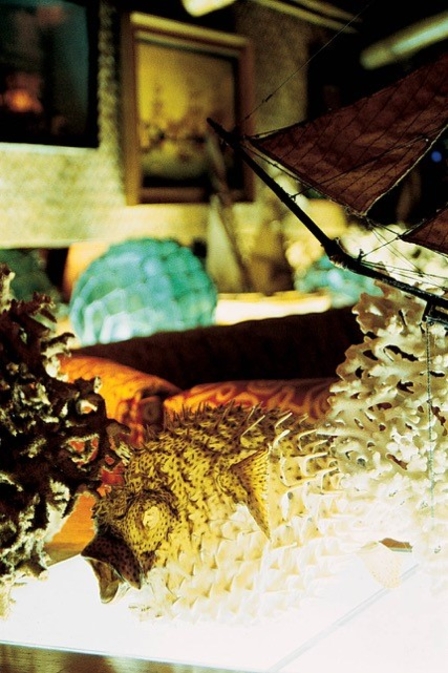 Puffer fish are just part of the brilliantly curated nonsense that comprise the distinctive interior décor of a good tiki bar. Here are some of the essential elements:
Location and architecture: Ideally a tiki bar would be purpose built, either on a beachside, or constructed to resemble a beach hut surrounded by bamboo and coconut trees. In reality most tiki bars sit in parades of shops on busy roadside locations. This being the case, to achieve the desired sense of escapism, tiki bars should be completely isolated from the urban scene outside. Certainly no windows and ideally an entrance lobby that acts like an airlock to ensure light and sound from outside is prevented from polluting the alternative world of tiki inside. Traditionally tiki bars are entered by crossing a bridge, usually across water.
Water features such as streams, pools, bridges and waterfalls feature prominently in most tiki bars. The sound of splashing water is strangely mesmerising and tropical fish meandering around an aquarium relaxing. However, the ultimate tiki bar aquatic feature has to be at the Sip 'n Dip Lounge, Great Falls, Montana, USA where performers dressed as mermaids swim around in the giant glass tank behind the bar.
Dimly lit with an amber glow emitted by indirect light sources, well shaded lamps and illuminated coloured glass floats.
Intimate spaces such as high backed booths and huts are also an important element. Lauhala matting covered walls are often used to create cosy hidden corners and break up large spaces.
Flotsam and jetsam, lots of stuff dotted around the walls and plastered over the ceiling such as diver's helmets, shark's teeth, ship's wheels and block pulleys. In fact, anything salvaged from a ship/boat adds to the look. You can go over the top and end up with tacky-tiki but minimalism simply doesn't suit tiki.
Bamboo and rattan furnishings such as butterfly chairs look the part but pretty much anything from a mid-century specialist will do.
Carved tiki poles rather like totem poles with elongated faces are an essential. A tiki bar is not a tiki bar without at least one tiki god. The word tiki originates from ancient Polynesia and indeed the monolithic human figures carved by the Rapa Nui people on Easter Island between 1250 and 1500 are the inspiration for the eponymous carved heads that watch over drinkers.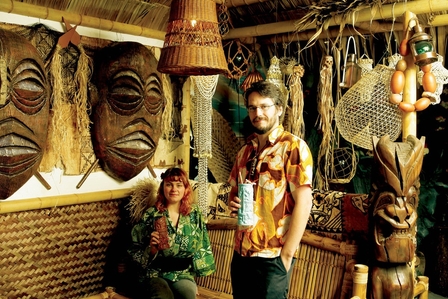 Hawaiian shirts, tapa printed jackets, and hula girls wearing vibrant colours sum up the clothing worn by tiki bar staff. Mermaid costumes are optional (see 'water features' above).
A large selection of rums displayed according to island and origin is essential to a tiki back bar. The post Prohibition American origins of tiki played a part in dictating that rum be the primary tiki base liquor and original tiki cocktails tend to favour islands such as Jamaica, Puerto Rico, Cuba, Barbados, Guyana and St. Croix.
Ludicrously named drinks presented on a large-format illustrated menu, preferably with a cock and bull story as to the bars origins and its imaginary location. Cocktail names should be strange and dangerous, evoking fear and humour, such as Missionary's Downfall, Scorpion, Shark's Bite, Shark's Tooth, Suffering Bastard, Scorpion, Voodoo I Do, Tahitian Honey Bee and Zombie.
The cocktail ingredients used by Donn Beach established a set of ingredients that shouts tiki. Firstly, the majority of tiki drinks are rum based and strong - as much as 150ml of alcohol, perhaps some of it overproof. Next comes citrus (lime, lemon, grapefruit, orange) balanced with sweet liqueurs (think amaretto, maraschino, curaçao, falernum, apricot bandy etc.), honey or flavoured sugar syrups (orgeat, grenadine, passion fruit etc.). Some tropical fruit such as guava, kiwi, passion fruit, mango or banana don't go amiss. And perhaps a dash of bitters, Angostura or Pimento fit the theme best. Remembering the rum punch routes of tropical cocktails, spices such as nutmeg, cinnamon and clove also play an important part in many a tiki cocktail.
Use one of each of the above and you've a seven ingredient cocktail but many of Donns original recipes use a blend of several rums, juices and different liqueurs. Perfectly balanced tiki drinks which harness complex blends of flavour brilliantly break the "simple is beautiful" rule. But you need to break the odd rule to properly escape a hum drum life and arrive in tiki nirvana.
Blend or shake rather than stir sums up tiki mixing techniques. The roar of a blender and sound of shakers in action are part of a tiki bar's atmosphere. A place where crushed, rather than block ice, is king and speakeasies with their quietly jangling stirred drinks seem staid and boring in comparison.
Quirky serving vessels from hollowed out pineapples and coconuts to sharing bowls, treasure chests, diver's helmets and ceramic skulls. But most iconic of all are ceramic Tiki mugs, ideally custom designed for the bar and sold as a collectable. Tiki-Ti change theirs each year - we are proud owners of a 55th anniversary mug. Do you have a full set?
Elaborate and over-the-top garnishes are essential accoutrements to a truly tiki cocktail. Sprigs of mint, skewers of pineapple and cherry are the basics but a Vanda orchid, banana leaf wrapped glass, Potted Parrot and a Menehune Man are so much more tiki.
Faux-Polynesian food with a mix of Chinese, French and American dishes cooked in Chinese wood-fired ovens. In common with tiki drinks, the dishes served in tiki bars such as Trader Vics are brilliantly presented.
Music can range from The Beach Boys to jazzed up Desert Island Discs interspersed with birdcalls, native drums and even the sound of thunderstorms.
As Martin Cate says, "You can make a Samoan Fogcutter at home, but I promise you, it tastes better in a tiki bar."