World Health Day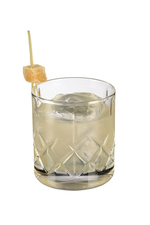 So we are drinking a...
In 1948, shortly after the World Health Organization (WHO) was established, it designated every 7th April from 1950 onwards as World Health Day, a time to focus on, well, issues of global health.
Scotland's Sir Alexander Fleming discovered penicillin and put it to work in 1928 (20 years before the WHO was established), creating the first-ever miracle cure. A previous WHO campaign highlighted penicillin's worrying overuse and the resulting resistant superbugs that flourish around the globe.
Today, this World Health Day, the WHO is "calling for action to eliminate health inequities, as part of a year-long global campaign to bring people together to build a fairer, healthier world."
What with Penicillin-resistant superbugs and COVID-19 we're grateful to the good folk at the WHO and the work they do to help keep us all safe. So we're drinking to them and we present a selection of suitable cocktails if you'd like to join us.

Doctor Funk
A Tiki classic, Doctor Funk was created by Don Beach in the early 1950s at his Don The Beachcomber restaurant in Palm Springs and is eponymously named after Robert Louis Stevenson's physician.

Doctor No.1
"Some of what the doctor prescribes" has led to a plethora of "Doctor" titled cocktails. This may be No.1 but it's not the first!

Edison's Medicine Cocktail
This 2011 cocktail by Pete Gugni combines cachaça and Yellow Chartreuse, the latter originally sold for its perceived medicinal properties.

Gin Quarantini
Believed to have been created in 2019 but this Neo-Martini had its moment of fame in the Covid Lockdown summer of 2020.

Medicina Latina
Marcos Tello's 2009 creation is reminiscent of a tequila-based Penicillin.

Penicillin Cocktail
Sam Ross' contemporary scotch-whisky based classic has an appropriate medicinal-like splash of peated Islay whisky.

Pharmaceutical Stimulant
One of a trio of near identical cocktails by the legendary Dick Bradsell, the most famous being the Espresso Martini.

Vodka Quarantini
This vodka-based version of the Quarantini was a social media phenomenon during the Covid Lockdown summer of 2020.

Yellow Fever Cocktail
Covid-19 brought about much talk of vaccine passports but those of us who travel have for years been carrying a card alongside our passports confirming our vaccination against Yellow Fever, the acute viral disease transmitted by infected mosquitoes. What's the connection to this tasty cocktail? It's yellow.




It's King Kong's birthday
This day in 1933, many Americans who weren't spending their Friday night getting absolutely hammered on newly legal 3.2% beer, headed to the cinema instead. Their destination? King Kong, a piece of groundbreaking stop-mo FX that has left the lovesick gigantic gorilla a popular icon to this day, and a slice of pure escapism from the economic misery of the Depression (not to mention the misery of living in states that still banned beer).
The director, Merian Cooper, whose CV included a stint chasing Pancho Villa in Mexico and a stretch in a Soviet prison, piloted the plane that finally kills the primate on top of the Empire State building.
King Kong would spawn not only at least two remakes but a whole series of later monsters, from the Creature from the Black Lagoon through to Godzilla. We are toasting him with a Monkey Gland, a classic from the 1920s.