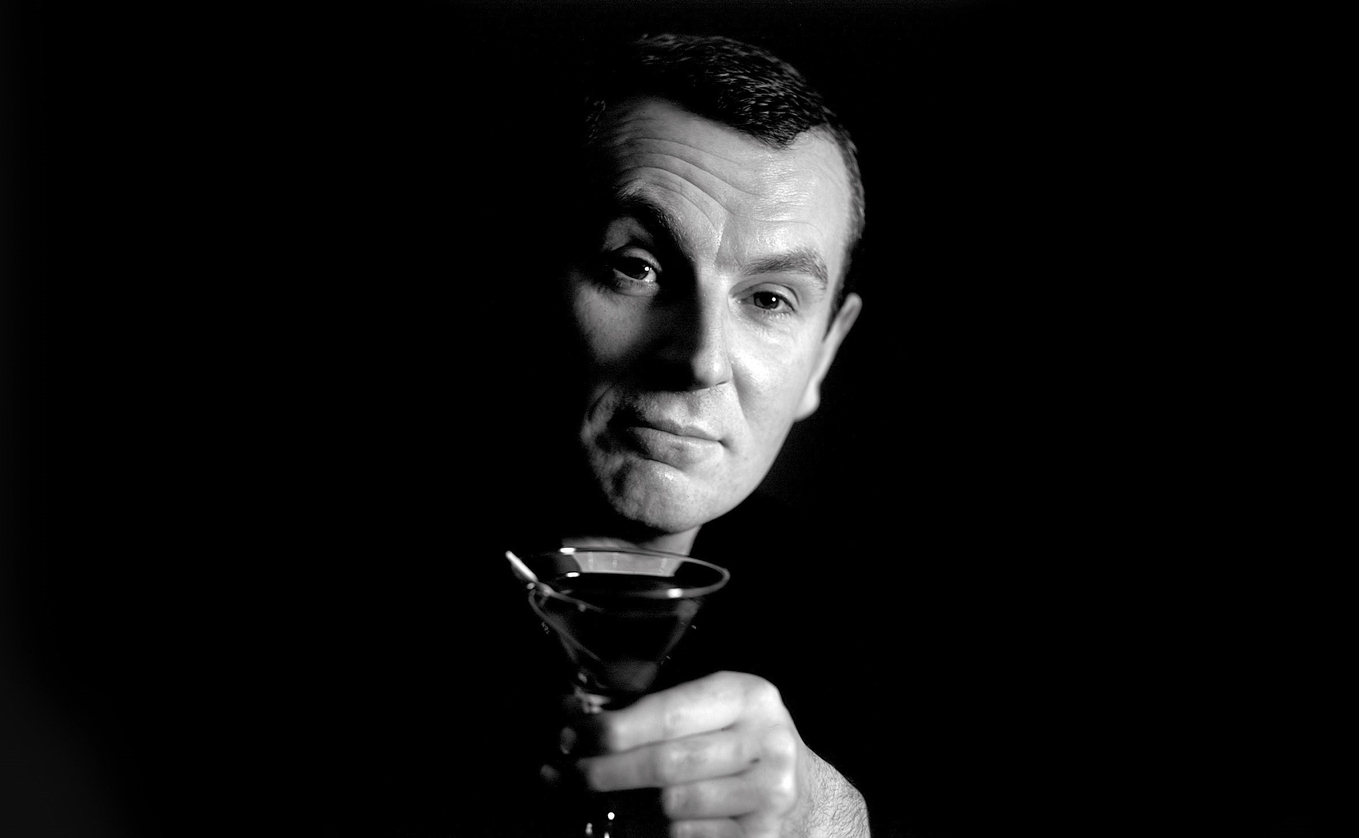 Died: 2016
Originally from: Isle of Wight
Profession: Bartender
At: London
Richard Arthur 'Dick' Bradsell, one of the most influential bartenders to ever operate behind the stick passed away peacefully on Saturday 27th February 2016 aged 56. In the words of his family, "He fought hard till the end and bowed out gracefully and on his own terms."
I first met Dick in 1997, soon after I'd launched CLASS magazine. It was the first of many enjoyable and memorable nights drinking with a man who became a good friend. On that first meeting he generously agreed to write for my new magazine, in no small way helping ensure its success and the establishment of this website.
I will always be in Dick's debt for introducing me to the Daiquiri, David Embury's seminal The Fine Art of Mixed Drinks and Theodora Sutcliffe who I employed almost immediately, and remains another good friend who still writes for Difford's Guide to this day – including her heartfelt memories of Dick below.
Dick was generous in his introductions, introducing the art of balancing cocktails to me and many up-and-coming London bartenders who, with Dick's guidance and inspiration, went on to drive the modern day cocktail renaissance he started.
Dick was a man who believed in double straining (as do I) and for Dick, sieving out unwanted lime pulp and shards of ice was essential when making a good Daiquiri, his Holy Grail cocktail. It was the cocktail he suggested I test bartenders with and in doing so I developed something of a taste for them.
Dick wrote about much of the above in his piece on Cuba for CLASS magazine in April 2001, reproduced further down this page. Also below, is a Movers & Shakers interview with Dick from CLASS magazine December 1998.
Dick was a regular contributor to CLASS magazine and during those halcyon years when internet access was "dial-up" speed and social media was a mere twinkle in Mark Zuckerberg's eye, I had the pleasure of travelling with Dick to review bars for CLASS and tried many of his new drinks, sometimes on the very evening he created them. I always asked for the recipe and often asked Dick to write about his creations for CLASS. Below Theo's recollections of her close friend, I've listed 30 such cocktails with links to his recipes, many accompanied by Dick's own words from the magazine. Below these are some of Dick's own wise words.
Theodora Sutcliffe remembers her friend
Dick Bradsell always seemed immortal. He adopted the protective carapace of the formal English bartender – one part Jeeves, one part Lloyd from The Shining, one part eccentric schoolmaster and a dash of surrealist poet – so early that for decades he hovered around some indefinable point in middle age. It was as though he'd never been young, perhaps emerging from his mother's womb in impeccably knotted tie, polished shoes and tailored suit, but would never grow old. And, sadly, Dick never did grow old: he was only in his 50s when he died.
As adored by his customers as he was respected by his peers, Dick created more classic cocktails than any bartender alive today. His best drinks have the jewel-like simplicity and retrospective obviousness that distinguish the great classics. Yet, while he tweaked proportions carefully and laboured over his drinks every bit as hard as more showy types, his recipes are robust: it's hard to completely cock up an Espresso Martini, a Russian Spring Punch or a Bramble.
Dick's creativity and attention to detail shaped what people drink around the world. From Australia to South Africa, from Mexico to Hong Kong, many of the world's best bartenders have Bradsell training in their DNA. Put crudely, he's why we expect fresh juice, not sour mix, in our drinks. His lovingly stirred Old-Fashioned was a big part of the groundswell that led to the classic drinks revival of the late 90s. Millions of people, from Bali beach bars to Boston Common, suck back Espresso Martinis every night.
Yet Dick also shaped how people drink. Fred's Club was one of the defining drinkeries of the 80s. The Atlantic was THE place to go in mid-90s London, and Dick's Bar set a template – velvet rope, high style, great cocktails – that's still in service around the world. Match Group would not have been the same without Dick – and Match raised the bar for off-the-main-drag drinking spots the world over.
Dick was quite the butterfly at the peak of his career – although usually to be found within an easy toddle of The French and Groucho. So it would be as tedious to try and list every place he worked as it is pointless to try and enumerate every one of his protegés: yet they're out there, all around the world.
And protegé is, I think, an appropriate term. Dick had a gift for friendship. Yet he also had a generous heart, an eye for waifs and strays who needed something to be getting on with, for interesting people who could do interesting things, for friends of friends in need of a new career, for people, in general, who could help each other out. A list of all Dick's protegés would take a very long time – but he trained Tony Conigliaro, Jasper Eyears, and more, and influenced an entire generation of London bartenders.
In fact, he got me my very first staff writing job, at what would become Difford's Guide, in typically Dick fashion. We were in a bar, of course. One of his. "There's a man who's starting a bar magazine. You should go and write for him," he said. "Oooh!" I said. "I'd do that for nothing." "Don't tell him that," Dick said, grinning evilly. "Here's his number. Ring him up." And so it went.
From the outpourings on social media over the last few hours, I'd imagine there are hundreds, if not thousands of people with similarly life changing moments to relate, be it a new career, a life partner or more. And that's before you get to his plain old-fashioned regulars, the myriad people who, over the years, not only relied on Dick as confidante and purveyor of drinks, but found in him a landmark, a solid centre, a timeless guide to ever-changing London. Many thousands of people will be mourning Mr B tonight, as fixture as well as friend.
Because, beneath that dry, acerbic wit and precise, formal exterior, Dick was the ultimate people person. A brilliant observer with a novelist's eye for the telling detail and a vicar's wife's nose for gossip - although he treated bartender-customer confidentiality with the solemnity of the confessional – he was also that rather anodyne adjective, "kind". A friend in need is a friend indeed, and Dick was a friend to many in times of need, be that a major life crisis, personal tragedy, or simply the urge to get drunk or laid.
Besides his compelling, hilarious, often filthy stories, Mr B was a goldmine of fascinating facts. But his understanding wasn't trivial. His father, who survives him, was a scientist, and Dick was an information sponge, be it French avant-garde literature, contemporary design or the origins of the Iraq War. In fact, whether you were looking for an orgy in a North London mansion, the best recipe for tomato sauce, or just a place for a late-night drink or two, Dick was your man.
A painter himself, from time to time, Dick was as happy hanging out with major modern artists at the Colony Club as he was with fashionistas and models in Fred's. He was, in fact, rather happier with bar sluts, Soho lushes, dreadful alcoholics and bad trannies than he was with most topflight restaurateurs and bar operators: it's no coincidence that his best friend was a novelist. He starred in the odd art film, created both bar cricket and bartender roulette, tipped generously even when potless, and was a proud and loving father to his only daughter Bea.
Dick was working on a book, with Bea, when he died, one of a range of projects, from bar openings to new drinks, that he never lived to see complete. It would have been a great book. He had a way with words. Who could forget that a good Margarita should leave one "howling at the moon"? (You can find some of his cocktail writing, which he wrote for that early print incarnation of this website ( CLASS magazine) below.
Many cancer activists object to the use of the verb "fought" to describe the act of enduring cancer. But, with the loving support of his beloved partner Eline, Bea, his friends and his family, including his ex-wife Vikki, Dick fought and fought and kept on fighting. The last words he said to me, in London a few weeks ago, were, "Oh, I'll definitely see YOU again!" I wish he had been right.
30 Dick Bradsell cocktails
• Bikini Martini
• Bramble
• Carol Channing
• Citrus Martini
• Cowbow Hoof Martini
• Detroit Martini
• Espresso Martini
• Esquire
• Fairy Cream
• French Spring Punch
• Golden Retriever
• Green Fairy
• Hammer of the Gods
• Honey Wall
• Julep Martini
• Leninade
• Lychee & Rose Petal Martini
• Martini Royale
• Oooh Ginger
• Pharmaceutical Stimulant
• Pink Chihuahua
• Raspberry Martini
• Russian Spring Punch
• Snood Murdekin
• Summer Breeze
• The Flirt
• Treacle
• Triple A
• Vodka Espresso
• Wibble
Cuba by Dick Bradsell (CLASS magazine April 2001)
I am a fairly fortunate person, very fortunate in some ways. Heck! living in the UK in the 21st century with a job, no boss and a thousand bars to review is surely one step from paradise. I am also utterly fortunate in that I have recently fulfilled a lifelong (career long?) dream and I know that does not happen to everyone.
My dream? I have always, always wanted to visit Cuba. I have wanted to ever since the missile crisis, the Bay of Pigs, the US embargo and especially after having read a description of Constantin Ribulga making a Daiquiri perfectly in the Fine Art of Mixing Drinks.
The description is tantalising. Smooth aged Havana rum blended with fresh limes - that have been hand squeezed whilst wearing white cotton gloves so not a drop of the oil from the skin will taint the concoction. Sugar syrup and maraschino liqueur added, the mix flash blended and then strained through a wire mesh meticulously into a pre-chilled oversized cocktail glass before being set lovingly in front of the lucky customer. I pause to salivate.
To be able to make a drink so fine, so delicious that more than one of the last century's great writers will put pen to paper to honour it is a skill indeed! I spent years trying to recreate that cocktail. I go on about it in my training. The lessons I learnt on the way. The need for exactness, the strive for perfection, the necessity of quality, the role of authenticity and the eventual satisfying realization that the journey was over and the quest achieved. Pretentious git aren't I?
I came across the first component in a dodgy Charlotte St restaurant and club called the Sol E Sombra in the early 80's. As the guys and gals grooved to the Latin tunes of Paul Murphy in the basement I could be found swigging rum with the owners above. I assure you it was not their company I sought, they were a surly bunch of growling Hispanic refugees who chain smoked cigars and argued viciously. It was the rum I was after. This was the only place I knew that stocked genuine Cuban rum and I had grown to love it. As most Cubans tend to, they drank it straight "no ice, no water, no nothing" they would say. Which was fine by me mainly because the drinks were free and partly because they were a mean looking bunch and I did not fancy looking like a girly in front of them. Inevitably the halcyon days were ended when the bar burnt down in suspicious circumstances and Paul the DJ sloped off to India to discover his inner self and dysentery.
I remained to discover the secrets of the Daiquiri. I now had the right rum because the great John Humphries had started to import it direct from source (along with real tequila and designer beers). The limes and sugar had been with us for a while so the next advancement was the sieve - those things that look like tea strainers that we use to sift out the nasty sharp lime pulp and smashed ice bits. My determination for authenticity brought the sieve to the Zanzibar Club and I have no doubt that is the only reason that any bar in London started stocking these strainers as a bar requisite. I find this somewhat amusing because it was this piece of equipment that facilitated Jaspar Eyears and Caibry Hill in their invention of the Fresh Fruit Martini that so slowed down the service in bars in the mid 90's (I jest, they are great drinks, slow but great none-the-less). Without the sieve strainer they would never have created those drinks so thank you yet again Mr Embury and his book.
The final step was the discovery of the need for dilution. Made correctly the Daiquiri is smooth, neither sweet nor sour and very quaffable. The best way to achieve this is by adding a good handful of crushed ice to the shaker before shaking the hell out of it. This has to add a lot of water and when it is done so the drink is perfect, an angel on the tongue. The journey over.
Trouble is I managed to go on this whole journey, ten or more years of experimenting and championing the Havana Club rum without ever having set foot in Cuba itself. I fought for that liquor, I lost friends and jobs over it I liked it so much but never really got any reward for it. I eventually spoke up when the owner of this mag, Simon Difford, came back with tales from his visits to Havana that were so compelling to me that I had a pea green hissy fit of jealousy that quite astounded him I think. He pointed out that as I had never asked them what did I expect? So I did and they said yes immediately.
So there I was at the Havana Club International Bartenders Competition in Cuba with 200 of the best bartenders in the world. Including my old mate Brian Duell (now of Cicciones) as the UK classic representative and Sam Clayton of B@1 as our flair contender. Plus a small group of writers who I knew well, the company folk and the indomitably cheerful Danny Smith of Che.
We had a hell of a time. Sam was fantastic, a superstar, he came third in the flair comp. I met great people. Only the Cubans would have the guts to invite 200 bar loonies to the same venue and offer them unlimited alcohol and all night dancing. I would love to tell you what went on but for the life of me I cannot recall most of it. Which may be for the best. I spent a lot of time drunk with a big grin on my face. Danny spent a lot of time asleep.
I now know everything you need to know about how they make Cuban Rum and how to drink it. The Cubans have a reputation for being the best bartenders in the world. They go to school for four years to learn the trade (everyone goes to school for four years in any trade). To be a bartender is the second best job after driving a taxi, the tourist dollar is supreme. The Cubans are delightful, friendly, educated and crazy. I was not so sure about the drinks. Most of the Mojitos were insipid but that seems to be the local style. The Daiquiris were sublime in La Floridita but so-so elsewhere. Stick to Cuba Libres. The best drink I had was a Mary Pickford. Freshly squeezed pineapple juice with 3-year-old rum and grenadine. Gorgeous, made at La Floridita of course. The best bar (or the bar I liked best) was the Monseratte a few doors down from the overpriced La Floridita. Cheap drinks and a fantastic band but that ain't hard to find in Havana. They even had some ok food which is very hard to find. It is a totally different world on the other side of that embargo.
Cuba won the classic competition and Canada the flair when the Italians were knocked out for firework violations. We privately ran a worst behaviour competition that we only came third, beaten by the (Irish led) Germans and won by a long margin by the Columbians. What is it with Columbians, I adore them but are they all stark raving bonkers? I think I might try to blag a trip there. I wonder what their top selling product is?
In reflection I think I might have been a complete pain in the ass. Drunk and over talkative. I say this because I managed, whilst drunk at six in the morning, to get my shoe lace caught in a door fall over and break three of my teeth inside my jaw. The relief that I could now no longer talk was so obvious amongst my companions that I now worry. I should have had it fixed there as their health system is reputedly far superior to ours.
I am going to have to go back again now, if they will have me, so I can form new memories and this time keep them. It lived up to and exceeded my expectations which is a rare deal in this day and age.
Everyone who has been loved it, ask them. It is different, not unspoilt, just different and I have got the Cuban bug. I didn't get a suntan though, I guess they don't have sun at night.
Cheers
Dick Bradsell
Movers & Shakers by Simon Difford (CLASS magazine December 1998)
Dick Bradsell has been bar manager of many of London's top bars including Detroit, Quo Vadis and Pharmacy, but he is best known for his time at The Atlantic Bar and Grill, where Dick's bar is named after him. Regular readers of CLASS will have read Dick's views on how to make cocktails. I recently I put the following questions to him.
Q/ You grew up on the Isle of Wight. How did you end up managing some of London's top bars?
A/ My uncle Peter Gurney was a club manager in London and he tutored me in all aspects of the catering trade at the Naval and Military Club on Piccadilly. Bar, kitchen, waiting and even chambermaiding! A hard, hard apprenticeship for a pittance (of course). Then I trained as a chef, then finally as a cocktail bartender with a four year stint at the Zanzibar Club under Ray Cook and Pat Hassan.
Q/ What is the worst thing you have ever done to a customer?
A/ I poisoned a whole restaurant with off Dover Sole just before I gave up cooking. Bar-wise probably the worst thing I have ever done was give a leading restaurant manager the phone with his wife on the end when he was with another woman. He was so irate because, as he rightly stated, he would never have made that mistake himself.
Q/ Does any customer stick in your mind?
A/ The one that died in mid order is forever etched upon my memory but Keith Allens evenings out have often been memorable. Frankly I never talk to the press about my clients. That is completely taboo.
Q/ Where is your favourite bar and why?
A/ In London; The Seen in Dean St. because it is a get-down-dirty old Soho have a laugh kind of a place. In England; Mojo in Leeds because they all love this business there and they are mad but very good at their jobs. In the world; The Club in Chaweng, Koh Samui, Thailand was a very well run amiable sort of place with a good list and great drinks but I am still looking.
Q/ What is the best night out you have had recently?
A/ I did a bar review of Bangkok which, according to my notes, was very enjoyable.
Q/ What would you put in the Millenium Dome?
A/ A highly profitable tourist trap bar.
Q/ What is the best present you have ever received?
A/ My daughter Beatrice (now 10).
Q/ What did you give your wife for Christmas?
A/ I married her in Las Vegas.
Q/ What is your favourite cocktail ingredient?
A/ Skill, enthusiasm and interest are essential ingredients (as is alcohol) but I would opt for fresh juices which were not common when I first started in this game. Taking the trouble to squeeze expensive fruits is important as it makes such a huge difference.
Q/ You are now at The Player in Soho, what about the cocktail list there?
A/ I developed the menu around a formula, as usual, trying to ensure there was something for every taste. I particularly wanted a list with a quirky feel. Some more unusual drinks that people would not normally order mixed in with classics and neo-classics. The list isn't static we have several specials everyday. All our drinks are strong and come in big chunky glasses.
Q/ What is the most innovative piece of drinks marketing you have seen recently?
A/ Strangely it is CLASS' own directory of liqueurs and spirits. The rest of that P.O.S. nonsense consistently fails to tweak my cherry. Bar managers want good liquor deals and free stock not advertorial tent cards etc.
Q/ How do you I.D. a good customer?
A/ A good customer is like an iceberg. They are recognised by their tips.
Q/ What do you enjoy most about your job?
A/ Meeting people, making them happy. Getting hold of a bar and making it work so there is a real buzz in the place and it is successful.
Q/ So what does make a bar work?
A/ People all over the world want one thing. Fun. They want to enjoy themselves and be happy and they do not mind paying for it.