Words by: Simon Difford
My quest to find the perfect Daiquiri and the recipe to replicate it started in 1997 when Dick Bradsell, England's most famous bartender, said I needed to choose a cocktail with which to test bartenders' skills and make that my own drink. Knowing my love of Daiquiris he suggested I order one every time I walk into a new bar to make a comparative assessment. I must have ordered thousands since.
Dick also introduced me to the other person who has been most influential in my own cocktail making, David A. Embury. In his seminal 1948 Fine Art of Mixing Drinks, the book that Dick gave me, he wrote, "The Daiquiri, like the Old-Fashioned, deserves an even greater popularity than it now enjoys. For example, it is in my opinion, a vastly superior cocktail to the Manhattan, yet most bars sell more Manhattans than Daiquiris. So far as I can ascertain there are two main reasons why more Daiquiris are not sold: The use of inferior rums and the use of improper proportions."
Every few years I have readdressed these two points, fine tuning what I consider a great Daiquiri - what are the best ingredients? What's the perfect recipe? What method or techniques make it special? There's much more to this cocktail than merely mixing three ingredients together in a cocktail shaker - although, essentially, it's that simple.
I'm indebted to Metinee "May" Kongsrivilai and the team at Bacardi who invited five Daiquiri loving bartenders to spend a few hours making and remaking Daiquiris and discussing variables in pursuit of my ongoing quest to find the best recipe. They were: Lyndon Higginson (The Liars Club, Manchester), Davide Segat (Punch Room, London), Ryan Chetiyawardana (Dandelyan, Super Lyan, London), Iain McPherson (Panda & Sons, Edinburgh), Marcis Dzelzainis (Sager & Wilde, London). I've incorporated what we discussed that day in what follows and I've included each of their recipes at the foot of this page.
Ingredients and formula
In his personal diary, Jennings Cox the American mining engineer, credited with creating this cocktail while working at a mine near the Cuban town of Daquiri in 1898, records his original Daiquiri recipe (to serve six) as follows:
"The juice of six lemons; Six teaspoons full of sugar; Six Bacardi cups ('Carta Blanca'); Two small cups of mineral water; Plenty of crushed ice"
So, a Daquiri is made using five ingredients: citrus, sugar, rum, water and ice, so firstly let's address each of these ingredients.
The best rum
Cox's original recipe and other such historical references specify Bacardi Carta Blanca as the rum used to make a Daiquiri. Thus, to make an authentic Daiquiri you should use a light white rum. And as Bacardi purports to be made using the same strain of cultured yeast and recipe as in Jennings Cox's day, then modern day Bacardi Carta Blanca is a natural choice.
I find that Bacardi has a delicate savoury mushroom/blue cheese note, which adds a distinctive character that I like in the finished drink. In the interest of balance, I should mention I'm also a fan of El Dorado 3 Year Old in my Daiquiris. It's important to use a light-bodied white rum as an authentic Daiquiri is a delicate and subtle cocktail.
Choice of citrus fruit
Although Cox's recipe states "lemons" it is most likely that he is referring to limes which are native to Cuba and that the confusion arises due to the common Cuban term for lime being 'limón'. Again, to quote Embury's wisdom, "Actually lemons are almost unknown in Cuba, whereas lime trees grow in everyone's own yard."
There is consensus that a Daiquiri should be made with limes but not all limes are created equal and Davide Segat argues that a combination of 2/3rd lime juice to 1/3rd lemon juice (of the varieties available in the UK) is more like the limes available in Cuba. Lemon juice is certainly slightly sweeter than lime juice and indeed a combination of the two juices does influence a Daiquiri's flavour. His Daiquiri is certainly delicious (recipe at the bottom of this page). However, the consensus amongst our group was that Daiquiris should be made with lime and crucially the lime should be ripe and freshly squeezed immediately prior to making the drink.
Striving for sustainability and cutting waste has led many to start using lime husks after they have been squeezed, indeed this plays a part in Marcis Dzelzainis's recipe at the foot of this page. I've experimented with this and it's surprising how much bitterness is added when shaking with even one lime zest twist. If shaking with lime peel then the quantity of sugar used will need to be increased to maintain the balance of the cocktail.
I favour cutting a few zests from each lime prior to peeling and then expressing the oils over the surface of the finished cocktail before discarding the spent peel.
Sugar or sugar syrup?
Embury's own recipe calls for sugar syrup and this is something with which I have previously whole-heartedly agreed with, as granulated or caster sugar does not as readily dissolve in cold liquid/alcohol. I have also previously always been an advocate of making my own 2:1 sugar syrup rather than buying a proprietary syrup but as Lyndon Higginson pointed out to me when he sampled my homemade syrup, it not only allows for inconsistencies, stirring the syrup together as it heats on the hob can result in metallic notes from the pan/spoon. The syrup I made did indeed appear to have a faint metallic taste. Commercially made syrups ensure consistency and are usually equivalent to 2:1 syrup in strength (65°brix).
Sugar syrup is arguably easier to measure accurately than spoons of sugar, and syrup has the advantage of being pre-dissolved. And indeed, you can make a very fine Daquiri using sugar syrup, but when made with caster sugar this cocktail appears to be more alive and vibrant, with pleasing sherbet-like notes.
If using caster sugar then be sure to stir with the lime juice in the base of your shaker to ensure the sugar is dissolved before adding the rum. Better still, use 'bar sugar' or 'powdered sugar' which dissolves readily and doesn't require stirring prior to shaking. To make this use a mortar and pestle to crush caster sugar to a fine powder.
Please also be aware of the difference between cane and beet sugars. Cuban cane sugar was used in the original Daquiri - its subtle flavour is part of this drink's DNA. Beet sugar is more neutral in flavour and produces a lesser cocktail. When buying caster sugar be sure to only buy packs that specifically state "cane sugar". If the pack merely says, "caster sugar" then this is likely to be made from sugar beet rather than sugar cane. I favour Tate & Lyle Fairtrade Cane Sugar.
When measuring caster or granulated sugar be aware of not only how heaped the sugar on your spoon is, but also the size of that spoon. Follows a rough guide:
Flat teaspoon = 4 to 5 grams sugar
Flat 5ml measure = 5 grams sugar
Heaped Cocktail Kingdom barspoon = 6 grams sugar
Heaped Bonzer barspoon = 7 grams sugar
Heated teaspoon = 6 to 7 grams sugar
For accuracy, I measure using 5ml chefs measuring spoons of powdered sugar tapped so the sugar is level with the top of the measure - consistently measures 5 grams of sugar.
Water/dilution
Embury's mixing instructions are, "Shake vigorously with plenty of finely crushed ice and strain into chilled cocktail glasses." Embury uses crushed ice to add dilution and indeed dilution is a crucial aspect to mixing a perfect Daiquiri. Some bartenders, (Dick Bradsell was one) shake daiquiris with a combination of cubed and crushed ice. However, as crushed ice is so variable in its wetness, so the amount of dilution it adds to a drink is unpredictable and inconsistent.
Cubed ice from an ice machine or the ice well of a bar will add more dilution than ice cubes taken directly from a freezer. If using ice straight from a freezer consider adding 10 to 15ml of iced water per cocktail.
When I make a Daiquiri with powdered sugar rather than syrup I make up for the lost dilution by adding 10ml chilled water per cocktail. I also aim to shake with such vigour that there are fragments of ice left in the strainer when I fine strain the drink. This makes for an ice-cold Daiquiri with the controlled dilution essential to a great straight-up Daiquiri.
Perfect proportions
Dick Bradsell originally taught me Embury's 8:2:1 Daiquiri formula and I used to believe this was the best (I still do when making Daiquiris with aged rum - but that's another cocktail.) Embury's 8:2:1 Daiquiri consists of:
8 part "White label Cuban rum" 60ml / 2oz
2 part Lime juice 15ml / ½oz
1 part Sugar syrup (2:1 strength) 7.5ml / ¼oz
Other bartenders make Daiquiris according to the classic Margarita formula using twice as much lime and sugar than Embury's recipe. Known as the "countdown" 3:2:1 formula). Similar, but with a splash more rum is the 4:2:1 "London" formula, popular in London during the 1990s, partly driven by the ease of measuring due to UK jiggers being 25ml and 50ml.
4 part Light white rum 50ml / 2oz
2 part Lime juice 25ml / 5/6oz
1 part Sugar syrup (2:1 strength) 12.5ml / ¼oz
I have experimented with the countdown / London formula but while tequila is robust enough to shine above the citrus flavour in a Margarita, such a large proportion of lime tends to overpower the more delicate flavours of light rum in a Daiquiri.
After much experimentation, around 2005, I settled on my rum-forward, less citrusy, arguably more balanced 10:3:2 Daiquiri formula, with a whopping 75ml (2.5oz) of rum - after all a mere 2oz of rum would hardly satisfy great Daiquiri drinkers such as Hemingway. However, even folk in the drinks industry appear shocked at such a healthy dose of rum so I have reduced the ingredients proportionately and the following three sets of measures all produce 10:3:2 Daiquiris:

If making with powdered sugar (now my preference) I count 1 gram of powdered sugar to be equal to 1ml sugar syrup (2:1), which handily means 2x flat 5ml chefs measures of powdered sugar equal 10ml sugar syrup.
That day when May brought five UK bartenders round to my bar for an afternoon of Daiquiri making and experimentation, something of a consensus was reached which introduced me to yet another formula, the 6:2:1 Daiquiri formula:
6 part Light white rum 60ml / 2oz
2 part Lime juice 20ml / 2/3oz
1 part Sugar syrup 10ml / 1/3oz (or 2 spoons caster sugar)
The 6:2:1 recipe does indeed make a very tasty, balanced Daiquiri that is a tad more citrus forward than my 10:3:2 formula. So good is this recipe that I nearly adopted it for my own, but after much subsequent testing I have stuck to the 10:3:2: formula - using a 75ml measure of rum when serving on-the-rocks and a 50ml measure of rum when serving straight-up in a Nick & Nora glass.
To fine strain?
The use of a fine strainer to remove fine fragments of ice that float on the surface of a cocktail, or indeed not bothering to do this is one of the most contentious issues in bartending. I've set out my arguments for fine straining elsewhere on this site, but each to their own.
More Daiquiri recipes
I'm indebted to the following for their input and recipes during what was a very enjoyable afternoon or Daiquiri making. Follows their own Daiquiri recipes:
Davide Segat, Punch Room, London
60ml Bacardi Carta Blanca white rum
20ml Lime juice
10ml Lemon juice
2 bar spoons Sugar syrup (2:1)


Lyndon Higginson (The Liars Club, Manchester)
60ml Bacardi Carta Blanca rum
25ml Lime juice
2 heaped Bonzer bar spoons Caster Sugar


Ryan Chetiyawardana (Dandelyan, Super Lyan, London)
60ml Bacardi Carta Blanca rum
20ml Lime juice
10ml Sugar syrup (2:1)


Iain McPherson (Panda & Sons, Edinburgh)
60ml Bacardi Carta Blanca rum
25ml Lime juice
10ml Sugar syrup (1:1)
1 heaped barspoon of caster sugar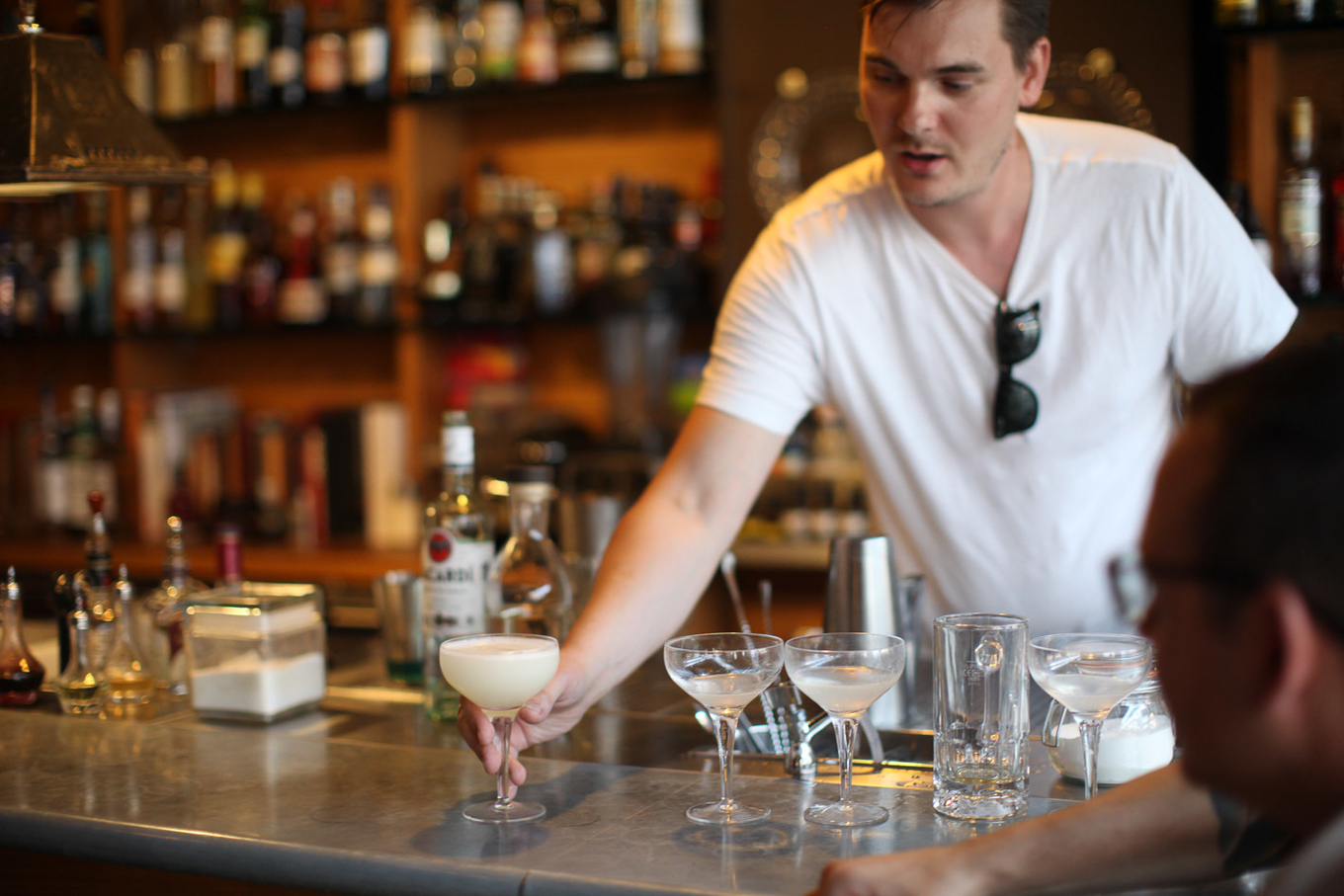 Marcis Dzelzainis (Sager & Wilde, London)
60 Bacardi Carta Blanca rum
Juice of 1 lime squeezed into shaker and lime shell dropped into shaker
25ml Sugar syrup (1:1)


Metinee "May" Kongsrivilai (Bacardi UK Brand Ambassador)
60ml Bacardi Carta Blanca rum
20ml Lime juice
2 heaped Bonzer barspoons of caster sugar