20 best Valentine's Day Cocktails
20 best Valentine's Day Cocktails
Words by Simon Difford
Photography by Dan Malpass
Valentine's Day cocktail names tend to be as corny as the cards and due to strawberries being uncannily heart-shaped, many Valentine's cocktails have strawberries for a garnish. Handily, strawberries also impart the desired shade of red so they're often an ingredient if not a garnish. Rather than a dozen red roses on Valentine's, here are 20 cocktails to surprise your loved one with.

Angel Face
With: Gin, calvados, apricot brandy and chilled water.
We say: Rich apricot and apple with a backbone of botanical gin. Balanced rather than dry or sweet.

Angel's Share
With: Green Chartreuse, cognac, walnut liqueur and tawny port.
We say: A fabulous drink, especially when VEP Chartreuse, family reserve cognac and 20 year old tawny port are used as per the original Starlight Room recipe.

Bacardi Special
With: Light rum, gin, lime juice, grenadine syrup, sugar syrup and chilled water.
We say: Hit the perfect proportions and you will strike a wondrous balance of flavoursome rum, gin botanicals, limey sourness and fruity sweetness.

Colletti Royal
With: Tequila, triple sec, elderflower liqueur, blood orange juice, lime juice, orange bitters and rosé champagne.
We say: Sweet and sour and very fruity - like a good Valentine's date.

Dunderstruck
With: Jamaican rum, Campari, strawberry syrup, pineapple juice and absinthe.
We say: Fruity in every sense of the word - not to mention eatery with namesake dundery rum notes takes centre stage. (Flavours are somewhat reminiscent of a Reggae Rum Punch.)

Elle Loves
With: Light rum infused with vanilla, rosé wine, pineapple juice and grenadine syrup.
We say: Fruity, very slightly sweet and suitably pink in colour.

Flame of Love Martini
With: Vodka, fino sherry and orange peel.
We say: Bone dry but fresh and most definitely citrusy.

Honey Bee Mine
With: Light rum, honey, vanilla extract and brut champagne.
We say: Honey and vanilla laced with white rum and charged with champagne. Perfect for Valentine's Day.

Love Heart
With: Vodka, parfait amour liqueur, strawberry liqueur and brut champagne.
We say: This lavender pink drink is everything you (or your partner) might want for a Valentine's tipple. It is the right colour, includes parfait amour liqueur (meaning perfect love) and the all-important champagne sparkle. Good luck.

Maiden's Blush
With: Gin, triple sec, grenadine syrup, lemon juice and chilled water.
We say: Pale pink, subtle and light.

Old Flame
With: Gin, triple sec, sweet vermouth, Campari and orange juice.
We say: Bittersweet, orchard fresh orange charged with gin.

P.S. I Love You
With: Irish cream liqueur, amaretto, golden rum, coffee liqueur and single cream.
We say: P.S. You'll love this creamy, slightly sweet desert cocktail.

Passion Fruit Martini
With: Passion fruit, vodka and passion fruit syrup.
We say: Simple but tasty, harnessing the flavour of passion fruit.

Ramos Chocolate Fizz
With: Gin, crème de cacao, orange flower water, vanilla extract, pasteurised egg white, single cream and brut champagne.
We say: Creamy chocolate vanilla fudge with faint orange and a hint of gin.

Rossini
With: Strawberries, strawberry liqueur and prosecco.
We say: Strawberries seem to complement prosecco even better than white peaches so perhaps order this in preference to a Bellini.

Sidecar Named Desire
With: Calvados, apple schnapps, lemon juice and sugar syrup.
We say: Take a classic Sidecar and add some love interest - apples!

Submarine Kiss
With: Crème de violette liqueur, gin, lemon juice, sugar syrup and pasteurised egg white.
We say: Looks stunning and gives the drinker the option to sip or swirl to mix the sweet liqueur base into the body of the drink.

Sweetheart
With: Vodka, rose petal liqueur, cranberry liqueur and lime juice.
We say: A floral riff on a classic Cosmopolitan. The quality of rose liqueur used makes or breaks this romantically themed cocktail.

Valentini
With: Strawberries, raspberry flavoured vodka, Benedictine, strawberry syrup, lemon juice and sugar syrup.
We say: A rich ripe strawberry and raspberry riff on the Porn Star Martini with lemon freshness and faint saffron.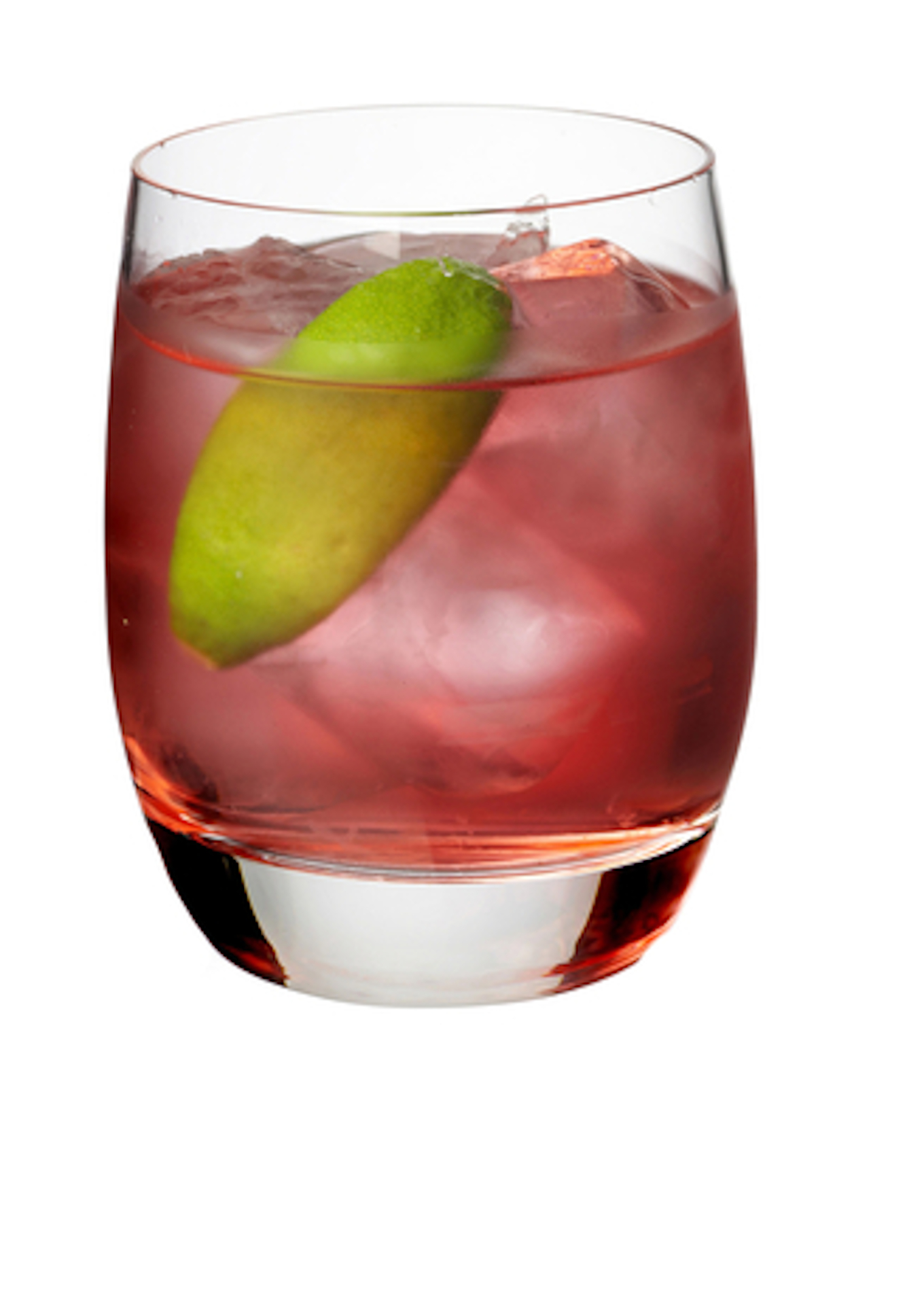 Woo Woo
With: Vodka, peach 'schnapps' liqueur, cranberry juice and peach bitters.
We say: Fruity, dry cranberry laced with vodka and sweet peach liqueur. A quaffable cocktail from the 1980s.