How to Add Spice to Your Cocktails
How to Add Spice to Your Cocktails
Can't go past a spicy Margarita on a menu? Always asking for an extra tap of TABASCO Sauce in your Bloody Mary? Spice adds a great kick to cocktails and introduces an element that isn't boozy, sweet or sour. So whether you like a gentle warmth or a full-blown fire, here's some ingredients to consider when looking to add that much-loved spice to your cocktails at home.
Spice can be added to cocktails in many ways, be it a syrup, liqueur, dried powder, fresh fruit (yep chilli peppers are fruits) or sauces like TABASCO brand. The real trick to harnessing spice and getting your cocktails exactly as you like them is understanding how heat works. For this we're measuring in Scoville heat units, also known as SHU which you'll find referenced on our site in recipes calling for fresh chilli. How you taste the chilli isn't entirely dictated by SHU though, it has a lot more to do with the other ingredients in your cocktail and elements such as fat and sugar will soak up the heat. This means that flips with egg yolk can hold more heat than a refreshing and long collins.
The following list will give you great ways to add spice to your cocktails. One way we'd advise against, however, is trying to add heat in your ice. There are plenty of articles online that suggest adding slices of jalapenos to water and freezing it into chilli ice cubes. This of course relies on your ice melting into your drink before the spice would come through, if it did at all. And as any home-bartender worth their salt knows, your ice shouldn't completely melt through the drink before you've finished it. Instead, try these spicy ingredients and the cocktails they shine in. Start with the recipe and adjust the heat as you like it.
Hot Sauce – TABASCO Sauce
Hot sauce is the tried and tested way of adding heat to your drink in a controllable format, from Bloody Marys to modern cocktails such as a Dragon Punch. At Difford's Guide, we use TABASCO Sauce for cocktails because it's aged. After the hand-picked peppers are mashed by the brand on Avery Island in Louisiana, they're aged for three years in white oak barrels. This oak aging means TABASCO Sauce doesn't need to add anything other than vinegar to the chillies, as the resting time stabilises and rounds out the flavour. When reaching for a hot sauce always check the amount of ingredients - the cleaner that list, the better your drink will taste.
Hot sauce also comes with a clear heat measurement, unlike slices of fresh chilli which can turn a great drink into something unpalatable. Heat, as we mentioned above, is softened by fats and sugars so it's important to look at the other ingredients you're using before deciding what bottle you reach for. TABASCO sauce original is one of the hottest sauces you can buy but the sweetness of tomato juice in a Bloody Mary tempers that beautifully. TABASCO Green Sauce, the milder version made from green chillies and with a distinct vegetal, earthy note, will turn any Tommy's Margarita into a spice-lovers dream as there isn't a great deal of sweetness and so requires a gentler heat.
RECIPES TO TRY WITH TABASCO SAUCE

Bloody Mary
Vodka, tomato juice, amontillado sherry, TABASCO Sauce, Worcestershire sauce, lemon juice, yellow bell pepper, celery salt, black pepper, sugar syrup
The most customisable cocktail out there, the Bloody Mary really lends itself to whatever level of heat you like. Our recipe includes some bell pepper freshness, a salty hint from sherry and bold spice from TABASCO Sauce.
Michelada
Lime juice, TABASCO Sauce, Worcestershire sauce, Dunkle beer
A long savoury, refreshing drink with an unexpected sweet n sour flavour coming from beer and an enlivening chilli heat from TABASCO Sauce. On a hot day, if a beer isn't quite hitting the spot then a Michelada might just do the trick.
Margarita Caliente
Blanco tequila, orange liqueur, TABASCO Sauce, lime juice, passion fruit syrup, marmalade
Using passion fruit syrup and hot sauce to bring this ultra fresh orange Margarita to life, you'll find the blend of heat and mild citrus a great twist to the usual lime-driven spicy Margaritas. This is a great example of the additional sweetness working well with spice.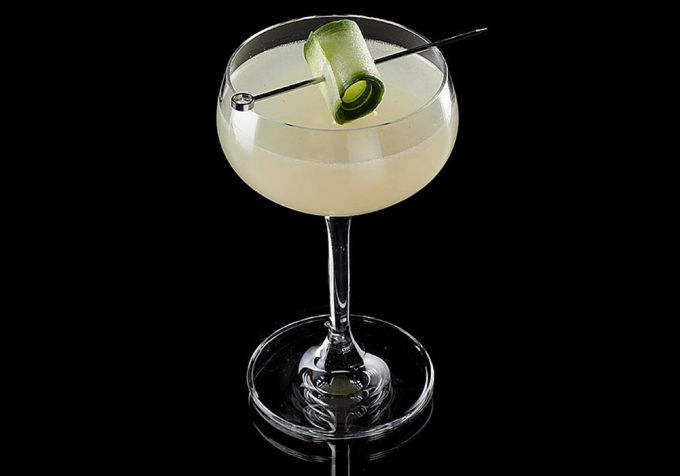 Dragon Punch
Mezcal, Yellow Chartreuse, TABASCO Sauce, lime juice, orgeat
An almond, mezcal and Chartreuse Margarita, the Dragon Punch gets its name from the two dashes of fire-breathing TABASCO Sauce that complements mezcal's natural smokiness.
Amante Picante
Cucumber, coriander, blanco tequila, TABASCO Green Sauce, lime juice, agave syrup
So green, so fresh. This cocktail, with its cucumber and coriander, is one that benefits from TABASCO Green Sauce. It's verdant, bright and has a unique, cool heat.
Ginger
Ginger is a warming and enlivening spice that does bring a gentle heat but offers something totally separate to a chilli. You can start at the base level with some ginger beer, muck around with ginger liqueur or even create your own ginger syrup with fresh ginger juice and syrup in a 1:1 ratio so a bold kick. Try these cocktails to see just how much ginger you like:
RECIPES TO TRY WITH GINGER

Penicillin
Blended Scotch, ginger liqueur, honey, lemon, Islay whisky
The king of ginger and whisky cocktails, this was originally made with homemade ginger syrup but also works well with ginger liqueur. We've listed both recipes here.
Ginger Last Word
Root ginger, gin, Green Chartreuse liqueur, maraschino liqueur, lime juice
Using fresh root ginger muddled in, this recipe is simply a Last Word with a hint of the root spice but proves this one-ingredient addition changes the cocktail by underpinning it's flavour with a mild heat.
El Diablo
Reposado tequila, crème de cassis, lime juice, ginger beer
A long tequila cocktail that calls for cassis and lime before being topped with ginger beer. The heat from the ginger beer works fabulously with tequila – as any Spicy Margarita fan will know – and shows how a dash of lengthener can add spice.
Shaky Pete's Ginger Beer
Gin, lemon juice, ginger syrup and beer
This drink has all the hallmarks of success; it's simple, unusual, and texture-wise a delight to quaff down. And happily, it tastes delicious. Essentially a gin and ginger sour topped with beer, the added step of blending your citrus, ginger and gin with two ice cubes before adding the beer takes this spicy serve and turns it into a summer classic.
Fresh Chilli
A little goes a long way here. Check the spiciness of your fresh chillies before you buy them to know how much you'll need. Always finely slice your chillies.
RECIPES TO TRY WITH FRESH CHILLI
Fire and Brimstone
Fresh chilli, mezcal, Cointreau, lemon juice, orange bitters, agave syrup
Created at Palmer & Co in Sydney, this spicy riff on a Mezcal Margarita muddles in just two slices from a deseeded chilli pepper and still packs a fiery punch.
Spicy Fifty
Fresh chilli, vanilla vodka, elderflower cordial, lime juice, honey
A London classic, the Spicy Fifty uses honey, vanilla vodka and lime juice to tame the chilli spice which still comes through gently from the slices muddled in the base of the shaker.
Chili Liqueur
Easier to measure than fresh chilli, although still not as reliable as hot sauce, chili liqueur will introduce both sweetness and spice at the same time. Each brand can have a vastly different heat level so testing is required.
RECIPES TO TRY WITH CHILLI LIQUEUR

Whisky Business
Rye whiskey, chilli pepper liqueur, lemon juice, cinnamon syrup, Angostura Bitters
A rye sour enlivened with chilli and cinnamon spice to warm the cockles.
The Devil In Me
Cognac, chilli liqueur, plum wine, maraschino liqueur, chocolate bitters
Plum sake, chilli spice and maraschino cherry all delicately flavour the cognac in this stirred after-dinner cocktail.
OTHER SPICE HACKS
Homemade Syrups: Spicy Passion Fruit Margarita
Calling for a syrup based on turbinado sugar, jalapenos and passion fruit puree, this bright and summery Margarita twist is a great example of how a homemade syrup can bring just the right amount of spice to a fruity cocktail.
Pimento Dram: Flannel
Pimento dram (a spicy liqueur made from stepping pimento berries in rum) adds a touch of Christmas spice to this apple and orange-laced cognac sipper.
Falernum: Well Oiled Mai Tai
A quality falernum adds a complex clove-like spice to classic cocktails, such as this Mai Tai twist.
Cinnamon Syrup: Pirate Queen
Cinnamon adds a sweet yet bold spiciness to drinks, and here in the Pirate Queen, created by Jillian Vose for NYC's Dead Rabbit, this spice is complemented by an underlying bready fruitiness from the genever and fresh strawberries.