20 Best New Year's Eve Cocktails
20 Best New Year's Eve Cocktails
Champagne is out - and cocktails are in! While a glass of bubbly is the traditional way to ring in the new year, more and more of us are changing things up and getting creative with our drinks. Here's 20 NYE cocktails to get you started.
According to a recent survey in America, 76% of people say they're changing how they celebrate this season in ways big and small and 35% say they will be trying more festive cocktails.
"A well-made cocktail can work just as well as champagne to elevate a celebratory moment and make it feel 'special', and unlike Champagne a cocktail is easily adaptable. Cocktails have the added advantage of representing a great memory or place you've been to or wish you were at. From New York City's Manhattan to Puerto Rico's Pina Colada, cocktails can form a strong association and 'transport' you in both time and space, even if you've never been there," says Jacob Briars, Bacardi's Global Advocacy Director.
If you still fancy fizz though, there are many cocktails that pair spirits with champagne and make those moments even better. Jacob's best entertaining suggestion is the modern classic, the Old Cuban, invented by Audrey Saunders at the start of the millennium and perhaps the definitive drink from the modern cocktail revival. It is best described (by Audrey) as a Mojito in a little black dress, and it is crowd pleasing (if you have a crowd) and perfect as an aperitif or as a drink to ring in midnight.
"And if you have been in lockdown you might be out of practice at staying up till midnight,' says Jacob. "In which case you might want an Espresso Martini which puts anyone in a good mood – if you are Zooming then this is a crowd pleasing choice for any cocktail lover."
NUTTY NEW YEAR
With: Vodka, dark crème de cacao liqueur, white crème de cacao liqueur, Monin Hazelnut Syrup and single cream.
We Say:An Alexander-style dessert cocktail to see the New Year in with.
NEW YEAR'S ABSOLUTION
With: Orange blossom honey, absinthe verte, cloudy apple juice and ginger ale.
We say: The green fairy, tamed with honey and spiced with ginger.
SORI D'ETE (Summer Evening)
With: Cognac, black raspberry liqueur and cold camomile tea, infused with lavender.
We say: Fruity cognac with delicate floral tea notes.
MIDNIGHT IN NEW YORK
With: Bourbon whiskey, shiraz red wine, fresh lemon juice and grenadine/pomegranate syrup.
We say: The success of this cocktail is very dependent on the red wine you use. A lighter earthier style will work better than a voluptuous fruity red.
FRENCH 75
With: Fresh lemon juice, powdered sugar, gin and brut Champagne.
We say: Fresh, clean, sophisticated – dangerously quaffable.
AIR MAIL
With: Light rum, fresh lime juice, honey syrup and brut Champagne.
We say: Lightly or well-aged rum invigorating with dry champagne, freshened by a touch of lime and balanced by honeyed richness.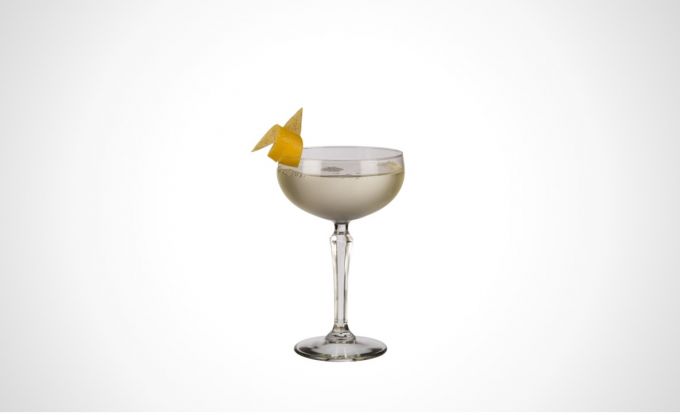 MILLIONAIRE'S MARTINI
With:ml Gin
40 ml Dry vermouth
20 ml Brut Champagne
We say: Normally we'd follow convention and honour the Martini name with a V-shaped glass. However, due to the splash of champagne, a coupe seems more in keeping for this dangerous champagne charged riff on a Fifty-Fifty Dry Martini
ROYAL MOJITO
With:Fresh mint leaves, light rum, fresh lime juice (freshly squeezed), Monin Pure Cane sugar syrup and brut Champagne.
We say: A mojito topped with champagne instead of soda water. There's posh.
SGROPPINO / SORBETTO
With: Vodka, single cream, prosecco sparkling wine and lemon sorbet.
We say: Smooth and all too easy to quaff. Pronounced 'scroe-pee-noe', this hybrid cocktail and dessert is often served after meals in Venice. The name comes from a vernacular word meaning 'untie', a reference to the belief that it relaxes your stomach after a hearty meal.
BELLINI (Difford's recipe)
With: Peach purée, peach 'schnapps' liqueur, fresh lemon juice and prosecco sparkling wine.
We say: It's hard not to like this blend of peaches and sparkling wine. Lemon juice adds balance and a citrusy bite while peach schnapps boosts peachy flavour. If you prefer drier then switch prosecco to brut champagne.
NOUVELLE HISTOIRE (New Story)
With: Cognac, fresh lemon juice, fresh orange juice, green mint (menthe verte) syrup and absinthe verte.
We say: A refreshing citrusy and minty cognac cocktail.
MIDNIGHT STINGER
With: Bourbon whiskey, Fernet Branca, fresh lemon juice and Monin Pure Cane sugar syrup.
We say: Just enjoyed a hearty meal? Well, this digestivo is just the ticket. If you're not accustomed to the taste of fernet then the first couple of sips may be challenging, but then this very refreshing cocktail becomes eminently sippable, quaffable even, and certainly stomach settling – well, we think so.
WATERMELON MMARGARITA
With: Fresh watermelon, reposado tequila (100% agave), fresh lime juice, watermelon syrup and salt.
We say: Just as it says on the tin – this is a very fruity Margarita.
CELEBRATION
With: Cognac, rosso (sweet) vermouth, Italian red bitter liqueur and orange bitters.
We say: Reminiscent of a cognac-based Negroni served straight-up.
PASSION FRUIT RUM PUNCH
With: Fresh passion fruit, white overproof rum, fresh lime juice, sugar syrup, Monin passion fruit syrup and brut Champagne.
We say: Rum and fruit combine in this punchy tropical style drink.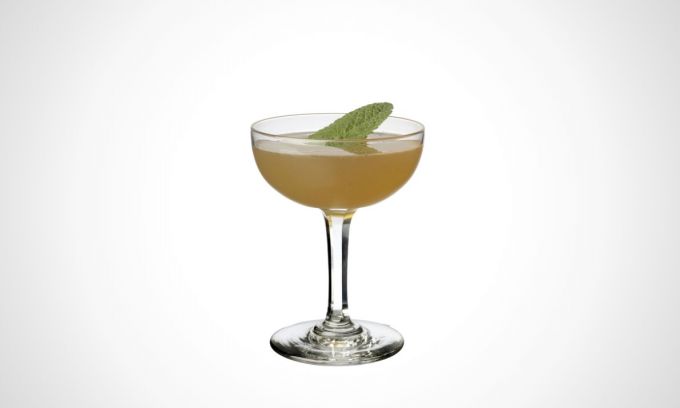 OLD CUBAN
With: Mint leaves, blended rum, fresh lime juice, sugar syrup, Angostura bitters and brut Champagne.
We say: A luxurious minty daiquiri topped with a splash of champagne.
COCONUT RUM PUNCH
With: White overproof rum, coconut syrup, coconut water and fresh lime juice.
We say: Coconut and rum with a splash of lime are a tried and tested flavour matches. In this case with the added punch of overproof funky Jamaican rum.
CHAMPAGNE COCKTAIL
With: Dark Muscovado / brown sugar, Angostura bitters, cognac and brut Champagne
We say: This classic cocktail remains as popular as ever. Starts bone dry and becomes slightly sweeter as you reach the dissolving cube at the bottom, depending on how briskly you drink of course.
CHIN CHIN
With: Orange blossom honey, Chivas Regal Extra 13yo scotch, cloudy apple juice and brut Champagne.
We say: Golden honey in colour and also in flavour. An unusual and great tasting Champagne cocktail.
...and finally, a farewell to the worst Leap Year we've ever lived through.

LEAP YEAR MARTINI
With: Gin, Grand Marnier, rosso (sweet) vermouth and fresh lemon juice.
We say: This drink, which is on the dry side, needs to be served ice cold.