20 best Aperol/red aperitivo cocktails
20 best Aperol/red aperitivo cocktails
What better on a sunny summer's evening than a light bittersweet aperitivo cocktail. Aperol Spritz is by far the best-known example of such a libation but this style of liqueur adds attractive subtle bitterness to a myriad of other cocktails. Follows our pick of the 20 best.


Brazuca Remedy
With: Basil leaves, silver cachaça, limoncello, Aperol, lemon juice, honey syrup and pasteurised egg white.
We say: Bittersweet and complex with underlying cachaça character. Perfect as an aperitivo.

Caneflower Cocktail
With: Silver cachaça, Aperol, elderflower liqueur and chilled water.
We say: Rust coloured and bittersweet with cachaça and elderflower.

Clockwork Orange No.2
With: Aquavit, Aperol, French press coffee, sugar syrup and chocolate bitters.
We say: Easy drinking, neither sweet or sour, this cocktail with its subtle coffee notes suits breakfast, teatime or aperitivo but was originally created as a dessert cocktail.

Division Bell
With: Mezcal, Aperol, maraschino liqueur and lime juice.
We say: A mezcal inspired variation of the Last Word with a refreshing, spirit-forward blend of ingredients.

Eclipse Cocktail
With: Añejo tequila, cherry brandy liqueur, Aperol, lemon juice and mezcal.
We say: Beautifully balanced bitter-sweetness with tequila and mezcal sitting harmoniously with cherry and aperitivo liqueurs, with lemon freshness. A perfect aperitivo cocktail.

Enrico Palazzo
With: Bourbon, sweet vermouth, Aperol, gentian liqueur and grapefruit bitters.
We say: A bittersweet Manhattan-style lightly sparkling cocktail.

The Italian Job
With: Pot still Jamaican rum, Cocchi Americano Bianco, Aperol, Byrrh aperitif aromatised wine and orange bitters.
We say: Bittersweet and boozy with a dry finish. Striking the right degree of dilution is key to the success of this cocktail - stir a little longer than usual and if using ice straight from the freezer perhaps consider adding a dash of chilled water.

Naked & Famous
With: Mezcal, Aperol, Yellow Chartreuse liqueur and lime juice.
We say: Salmon pink in colour. Mezcal adds earthy smoky complexity to this bittersweet, citrusy fresh, aperitivo cocktail. Getting naked can certainly help you become famous!

Last Flight
With: Bourbon, Green Chartreuse, Aperol and lemon juice.
We say: This appropriately named boozy cocktail is a cross between a Last Word and a Paper Plane.

Lavarello
With: Silver cachaça, Aperol, Cynar, chocolate bitters and chilled water.
We say: A riff on the Rabo-de-Galo with bittersweet aperitivo in place of sweet vermouth.

Lost Plane
With: Bermuda dark rum, Aperol, amaro and lemon juice.
We say: Amaro's distinctive flavours shine through alongside the dark rum in this aperitivo cocktail.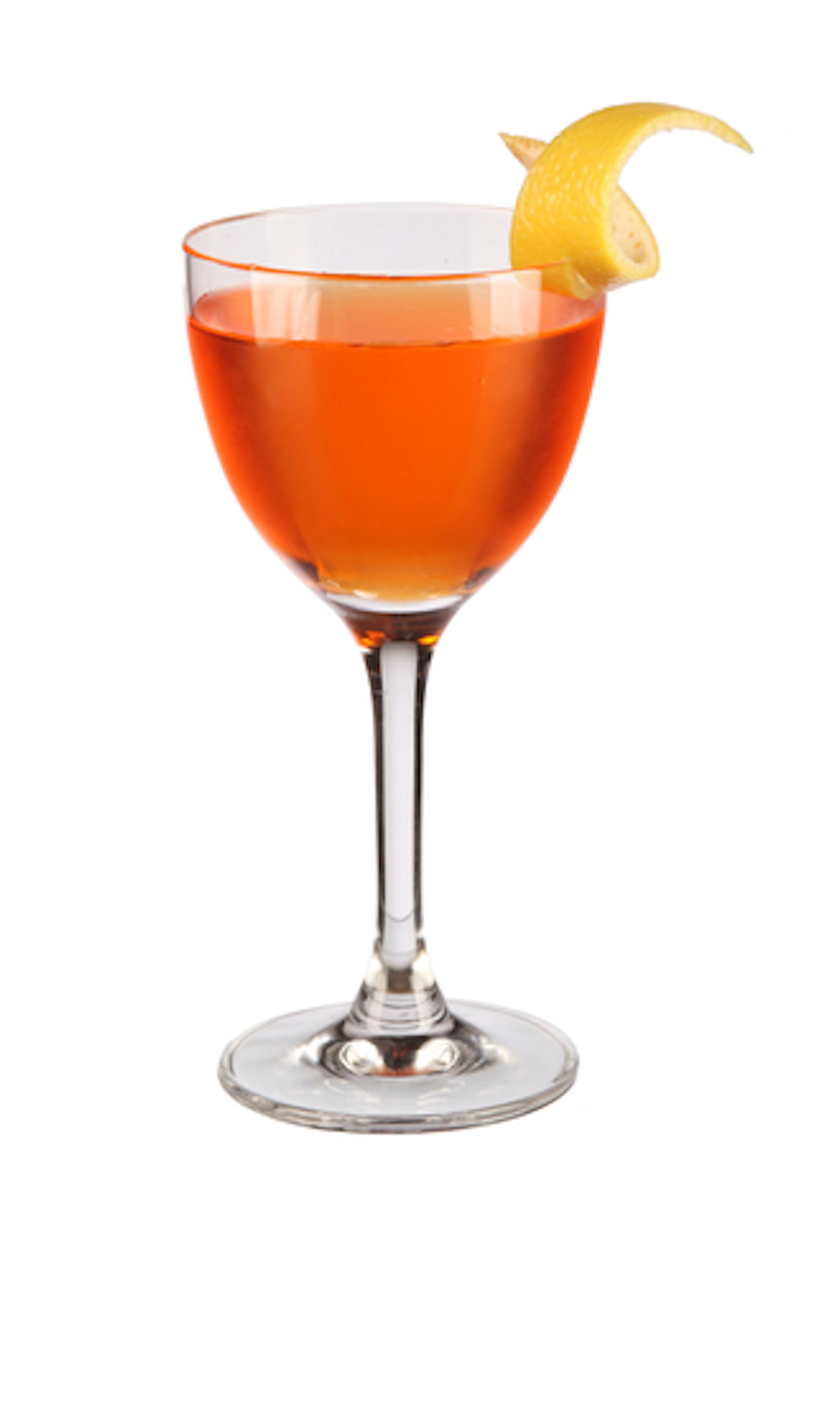 Montreal Cocktail
With: Dry gin, Canadian rye whiskey, Aperol and gentian liqueur.
We say: Stirred, spirituous and bittersweet, this aperitif-style cocktail reflects Montreal's French and English influences with London Dry Gin and gentian liqueur.

Negroni and the Goat
With: Dry gin, Aperol, sweet well-aged vermouth and amaro.
We say: Negroni in name and Negroni in style with the sweetness of Aperol countered by the use of amaro.

Oh Cecilie
With: Dry gin, Aperol, sweet vermouth, Picon Amer and aromatic bitters.
We say: A tasty Danish riff on the Negroni.

Paper Plane
With: Bourbon, amaro, Aperol and lemon juice.
We say: This pink/rust red drink is bittersweet with underlying bourbon character and lemon zestiness.

Perennial
With: Rhubarb flavoured vodka, Lillet Blanc and Aperol.
We say: Gently bitter rhubarb - a very tasty aperitivo.

Queen Mother
With: Dry gin, Dubonnet Red, Aperol and pot still Jamaican rum.
We say: Pot still Jamaican rum adds delicate but distinctive funky notes to this lightly sweet fruity gin-laced cocktail.

Ragtime
With: Absinthe, Aperol, amaro, rye whiskey and creole-style bitters.
We say: This bittersweet drink benefits from the strength of bonded rye whiskey and was originally made with Rittenhouse.

Sunset Strip
With: Bourbon, Aperol and pink grapefruit liqueur.
We say: Somewhat reminiscent of Shakerato, the Sunset Strip seems to benefit from the aeration and extra dilution provided by shaking.

When The Smoke Cleared
With: Mezcal, Aperol, ginger syrup, lime juice, pineapple juice and saline solution.
We say: Smoky, tangy and complex with layers of flavour, although happily mezcal dominates.