Here at diffordsguide HQ we try to stay abreast of developments in the sporting world, but in our own particular style. So instead of corner pubs and pints we're having a showdown of mixology.

Whether you got lucky in the sweepstake at work or not, now you can celebrate your team's triumphs or commiserate their failures with a cocktail for each of the 32 World Cup 2014 qualifying teams.
The Quarter-Finals
Argentina
Tipped to win by just about everyone, Argentina won all three of their group stage matches. We're drinking an Argentina Cocktail in honour of this year's favourite which is a wet martini softened by liqueur and given a hint of citrus and spice.
Belgium
The small European country has great things expected of it at this year's World Cup, not least thanks to its talent pool who are all-star billings at clubs across Europe. So far they've sailed through both the group stage and the round of 16. We're drinking a Chocolate Martini in honour of Belgium's superior football skills and their rich and delicious chocolate.
Brazil
The home team have done exceptionally well so far and have made it to the quarter finals. What else would we be drinking but a Caipirinha, the Brazilian serve?
Colombia
Despite their strong FIFA ranking, Colombia have a troubled history at the World Cup, having never made it past the groups round. Until now. They beat Greece 3-nil, Cote d'Ivoire 2-1 and Japan 4-1 to make it through, facing Uruguay in the quarter-finals. A country prized for its coffee beans and being one of the most ecologically diverse nations, we're toasting Colombia breaking its losing streak with a concoction of pisco, coffee and cinnamon - a Cola de Mono.
Costa Rica
Costa Rica has preformed well so far and have successfully made it to the quarter finals. The country has three main cash crops: bananas, pineapples and coffee. And yet tourism brings in more money than these three exports combined. We're drinking a modern classic, the Espresso Martini, a combination of coffee, coffee liqueur and vodka, in the expectation that Costa Rica once again rise through the ranks.
France
Les Bleus came in strong, beating Honduras 3-0, and Switzerland 5-2 but they drew with Ecuador nil-all. The team have commanded a lot of respect in the football world and in equal ascendance to Les Bleus is the French bar scene - already known for incredible spirit production, the French are now pumping out some incredible bartenders and cocktails. If you're supporting France may we recommend a Blue Monday?
Germany
Germany lie third in the all-time world football ranking with three FIFA World Cup triumphs, behind Italy with four and reigning champions Brazil with five. This year, so far, they've drawn 2-2 with Ghana but smashed Portugal 4-0 and USA 1-0. For Germany's fans there is only one drink that we could possibly suggest, from one of the country's best and most charismatic bartenders, Jörg Meyer. It's the Gin Basil Smash of course.
Netherlands
With a history of making it to the Grand Final of the World Cup only to walk away empty handed, the Dutch team habitually present a strong force. And they haven't disappointed this year. Known as the Oranje, the team breezed their way into the tournament and are expected to do very well. As a fitting tribute to the team we suggest to their supporters a Dutch Blood and Sand, made with the national spirit of genever and coloured orange.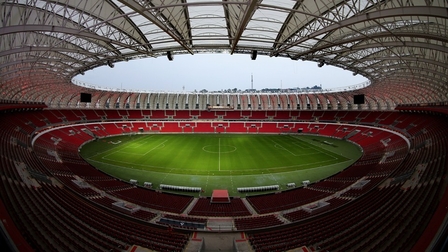 HEADING HOME
Algeria
Losing to Belgium in their first match, 2-1, things took a better turn for Algeria, who went on to beat Korea Republic 4-2 and draw 1-1 with Russia. However they were knocked out in the round of 16, without making the quarter-finals. We're drinking an Algeria, which really needs little explanation as to the choice. Pisco, apricot and orange combine wonderfully in this medium dry, balanced cocktail with a tangy bite.
Australia
The Aussie team, known as the Socceroos, have only recently become a player in the international football scene. Battling a rugby and cricket-obsessed home country, we think they performed well this year and we're toasting their new-found talent with a Kangaroo Dry Martini.
Bosnia and Herzegovina
A fairly new country to the global stage, the area of Bosnia and Herzegovina has a rich history in alcohol production. In the south, distilleries used to produce vast quantities of brandy, which is still the spirit preference for many drinks. So we're wishing Bosnia and Herzegovina better luck next time with a Brandy Flip.
Cameroon
According to FIFA "...no team has done more to shake up perceptions of African football." We hope this game-changing country get's a better go of it next World Cup, so we'll be drinking a Camero(o)n's Kick.
Chile
The South American nation did well in its first two matches, beating the Aussies 3-1 and reigning champions Spain 2-0 but lost to the Netherlands with the same score they beat Spain. After not making it to the quarter finals we're commiserating the team with a glass full of their national drink, the Pisco Sour.
Cote d'Ivoire
Cote d'Ivoire breezed through their opening qualifying group with four wins from their six matches. Their two previous appearances have seen them placed in extremely difficult groups, and the same was true of this year, which is in part why they have yet to make it past the groups round. As an ex-French colony, the country takes it's name from its history as an ivory trader, so we're proposing an aptly named White Elephant in toast of better luck next time.
Croatia
After a stunning debut in the 1998 World Cup, finishing third, the past few tournaments have proved disappointing to this Mediterranean country. However they do specialise in great Chardonnay, grown throughout the country excluding Central & South Dalmatia. So we're drinking a Starry Night, made with Chardonnay, pear and maraschino liqueur, and wishing them better fortunes in 2018.
Ecuador
Ecuador had a somewhat difficult journey in qualifying for this year's World Cup but have a history of playing strongly in the tournament, notably their achievement's in Germany's 2006 World Cup. The country is known for its lush produce and a wide variety of fresh fruit is available, particularly at lower altitudes, including the delicious passionfruit. So for Ecuador we're happily sipping on a Bajan Passion, rum, passionfruit, apricot brandy, and lime. Here's to 2018.
England
England, still riding on the glory of that day in 1966 (a date ingrained in every English football hooligan's heart), caused outcry by not managing to make it past the groups stage. Not even one fan went to greet the players returning home. We'll go back to whining about something else soon, and hope for better times in Quatar. For the moment let's drown our sorrows with an English Breakfast Martini, made with gin, elderflower and English breakfast tea which is about as English as you can get.
Ghana
Known for its oil and gas, its sweet crude oil reserves ranks at 5th in continental Africa, Ghana is also a strong player on the international football scene. We're toasting Ghana, and future oppertunites, with an appropriately named Corn n' Oil.
Greece
Land of olives, goat cheese, democracy and bankruptcy, Greece has had a long love affair with football. However their career in the World Cup hasn't been phenomenal over the past few years, and they lost quite spectacularly to Colombia 3-0. That said, the team made it past the groups round and we're toasting them with a classic cocktail with a splash of olive brine - the Dirty Martini of course.
Honduras
2014 was the third time Honduras have made it into the World Cup, with years in between its first appearance in 1982 and the last tournament in South Africa, 2010. The small central-American nation has a rich history though and is known for its Mesoamerican cultures, most notably the Maya, prior to being conquered by Spain in the sixteenth century. For its supporters we recommend toasting the returning team, who performed well, with a Bahia, a blend of rum, coconut and pineapple - drawing on Honduras cuisine which uses coconut milk to prepare many of the seafood and meat dishes.
Iran
Iran has a huge football following but has thus far disappointed many of its supporters by never managing to progress past the group stage of the World Cup. While it may not yet rank first in the world for football however Iran is the world number one in the production of pomegranates which is why we're making a Pomegranate Margarita for the team and hoping they'll fair better when the World Cup comes closer to home in 2018.
Italy
Winners of FIFA World Cup Italy 1934, France 1938, Spain 1982 and Germany 2006 it would have been fair to say Italy should, at the very least, have progressed past the group stage of the tournament. But they performed terribly. We think an Italian Milk Punch made with the country's own grappa is a perfect drink to morn the loss of world domination. Sorry Italy.
Japan
Japan have only recently emerged as a global football force and, despite a few victories in 2002's Korea/Japan World Cup, they have largely slipped under the radar. We think they're do better next year and are raising a Japanese Pear, made with sake, for them.
Korea Republic
A.K.A South Korea. This team is Asia's most frequent visitors to world football's showpiece event but they never managed to break through until they co-hosted the tournament in 2006. For a country that has many problems, not least its neighbour, we're sad they didn't bring a bit of joy home, but are still toasting the team with an aptly named South of the Border.
Mexico
After an unexpected struggle to qualify for the World Cup this year many Mexican fans may not have been feeling entirely confident about their team's prospects. But they managed to beat Cameroon 1-0, Croatia 3-1 and drew with Brazil to qualify for the next round. However they didn't quite make it the quarter finals. For Mexico it had to be a drink the locals actually enjoy and we could go no further than the legendary Don Javier Delgado Corona, owner/bartender of La Capilla (The Chapel) in Tequila and his Paloma.
Nigeria
Cutting a striking look on the field in their emerald green jerseys, this was Nigeria's fifth appearance in the World Cup. They made it as far as the 16 round stage but failed to qualify for the quarter finals. Nicknamed the 'giant of Africa' Nigeria boasts the highest population and the biggest economy on the continent. We're recommending a Green Destiny.
Portugal
Known as a strong contender, although having largely disappointed fans throughout the 1990s by not even qualifying, Portugal did extremely well in the World Cup of 2006 and preformed decently in South Africa. Alas they've packed their bags and gone home this year. To commiserate may we suggest a Port No.2? Using, of course, the nation's own fortified wine Port alongside citrus bitters and orange liqueur.
Russia
The Russian's have done well at nearly all their World Cup appearances, despite expectations. Having made a handful of quarter finals in the past, they missed out on the two previous tournaments but played fairly smoothly to cement their position in Brazil. This year they've disappointed Vladimir and the nation but we'll still raise a glass to their efforts. We love both verisions of the classic vodka cocktail carrying Russia's name but this twist, a Blushin' Russian, with some almond liqueur is sure to appease fans of both.
Spain
Having appeared in 13 World Cups and taken the title only four years previously in South Africa, Spain headed to Brazil to defend their title. They return having not even made it past the group stages. What a fall from grace. For their fans around the world we'd suggest having a Jerez, made with Spanish sherry, and trying to forget the past few weeks.
Switzerland
A land known for its mountains and neutrality more than its football, Switzerland have actually appeared nine times in the World Cup. They lost out to France 5-2 but won over both Ecuador, 2-1, and Honduras, 3-0 in the group stage. We'd recommend, what else, but The Neutral Ground.
United States
It's rare for a country outside South America and Europe to break into the upper ranks of world football but the yanks have had a few decent goes, their most successful all the way back in 1930 where they found themselves in third position. Ever since then it's been hit and miss, some World Cups preforming beyond expectations, others placing last. And this year? They didn't quite make it to the quarter finals but did get past the group round. We're making a Fourth of July Cocktail.
Uruguay
Yesteryear's giants, Uruguay used to dominate the world football scene right up until the 1970s. After forty plus years in the wilderness, they managed to finally get past the groups stage. We're toasting the nation with a twist on their national drink, Grappamiel. Consumed across the country, alcohol is mixed with honey and hot water and used in the cooler mornings to warm up. Instead of Grappamiel, we're having Hot Buttered Rum Cocktail which combines rum, honey, butter and hot water.